This is Westfield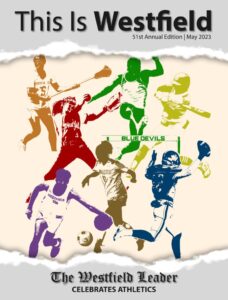 CELEBRATE 51 YEARS OF This Is Westfield as we celebrate Athletics. This annual magazine is mailed to every household in Westfield and is published on this website. It is a year-round reference for residents and a gift for newcomers. This Is Westfieldfeatures the region's business, education, civic, government and cultural organizations. It is distributed by many groups such as realtors, libraries and the town. It is a must for advertisers and organizations doing business in the area.
This Is Westfield chronicles our great town with kindhearted people and wonderful neighbors. Westfield is a superb place to live and to do business and we make sure to highlight that in our publication.
We hope you enjoy the efforts of our staff. Thank you everyone for making this edition possible and for the support of all our publications in town since 1890.
The 2023 cover of This Is Westfield (TIW) was designed by Production Manager Kim Prata. In celebration of athletics, Kim was inspired to center the cover of TIW around sports photos taken by David Corbin, The Leader's Sports and Managing Editor of over 25 years. Kim used various pictures of Westfield athletes in action, all captured by David during the 2022 school year. These photos were skillfully transformed into a graphic cover portraying a black and white surface being torn open to reveal the colorful sports of Westfield.