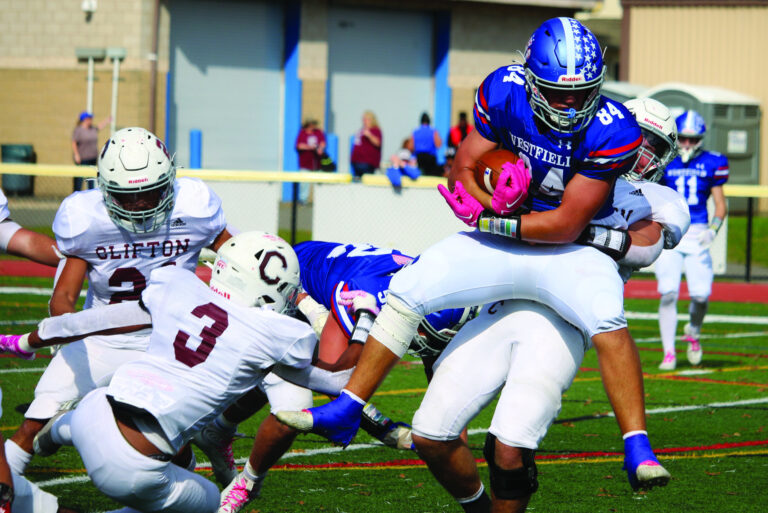 Blue Devils Shut Out Clifton In Section Quarterfinal, 36-0
CHO TDS TO FERRERO, MAGHERINI, COYLE; JORDAN TD
Timing is everything! Two straight shutouts could not have happened at a more opportune time when the fourthseeded Westfield High School football team entertained the fifth-seeded Clifton Mustangs in the quarterfinal round of the North Jersey, Section 2, Group 5 playoffs at Gary Kehler Stadium in Westfield on October 28. The 5-4 Blue Devils' defense pounded the Mustangs mercilessly all afternoon, while the offense inflicted immediate shock therapy to emerge with a 36-0 triumph.
Once again, the Blue Devil interior line headed by co-captains Julian Montez (6-5, 300 lbs) and Max Romano (6-0, 304 lbs), along with Zac Wragg and Lincoln Meyers, forced the opposing running backs to think twice about where to run. However when they ran to the outside linebacker/co-captain Chris Rossetti and defensive back/co-captain Luke Jordan, along with linebacker Joe DiMattina and defensive backs Steve Csorba and Nick Russo were available to finish the job.
The Mustangs were limited to 92 rushing yards on 32 carries and their most productive running back was Devon Stroble (16 carries, 79 yards). Quarterback Romelo Tables was sacked for an 11-yard loss by Montez and Wragg, then he experienced another sack by Romano. The passing game did not fare well either with 89 yards on 22 attempts, which included an interception by Russo, and 12 completions. Nate Ceneri had six of those receptions for 50 yards.
"We just want to play as one, play all 11 as one, so I think we did that two weeks in a row. Hope we can keep it rolling for next week," Montez said.
Romano added, "The defense stepped up big time. We came off a tough work week with Hillsborough. Coach said step up and we did. That was the result. Shutout!"
"It felt so good. The defense has been coming together the past two weeks and it's showing on the field. We play as a team. Coach said before the game it's like a blueprint and that's what happened today," Jordan said.
"We definitely came together these last two weeks on defense. Even our loss against Ridge, we have been tighter on defense than we have all season. I think as the playoffs continue, we will continue with that type of defense that we've had these past two weeks," Rossetti said.
Late in the fourth quarter Tables would have experienced another sack when he was searching for an opening but he discovered that Romano was right in his path. Instead, he decided to go down on his own.
Romano grinned and answered, "I'm a big man. I use my size well. That's all I got to say!"
The immediate shock therapy began right after junior Enzo Ferrero kicked the first of his six kickoffs into the end zone. The Mustangs went three-and-out on their first series and the Blue Devils took over at midfield. Sophomore running back Luke Spaide (6 carries, 29 yards), filling in for the injured Josh Caramango, scooted 18 yards to the 32 then co-captain/quarterback Max Cho fired a 32-yard touchdown strike to junior split end Sebastian Magherini with 10:48 left in the first quarter. Cho would add a second and third touchdown strike within the next eight minutes of the quarter to up the lead to 21-0.
"Yes! That was our expectation. Coach Haimann said right out of the gate, we got to produce and we did that. It was amazing! Second play of offense, it goes for a touchdown. It builds our confidence," Cho explained.
In the first half alone, Cho (11-for-14, 173 yards) completed six of seven passes for 121 yards, including the three touchdowns, then completed five of seven in the second half for 52 yards. Magherini had two receptions for 44 yards, including a touchdown. Ferrero had five receptions for 86 yards, including a touchdown. Tight end Colin Coyle had three receptions for 39 yards, including a touchdown, and Jordan had a four-yard reception.
The Blue Devil defense was inhospitable again on Clifton's next possession. The 11-yard sack by Montez and Wragg resulted in another threeand- out and Westfield took over at the Clifton 35. Cho hooked up with Ferrero for 15 yards then three plays later, he hit Coyle for a 14-yard touchdown with 6:55 left in the quarter.
A third kick into the end zone, gave the Mustangs possession at the 20. This time the Mustangs managed to get a pair of first downs but that ended abruptly when Russo intercepted Tables at midfield then became a victim of a late hit to give Westfield possession at the Clifton 27. On the first play, Cho connected with Ferrero for the touchdown with 2:42 on the clock.
A fourth kick into the end zone was followed with some hard tackles and the Mustangs were forced to punt near their end zone. A bad snap sailed into and out of the end zone for a safety and the Blue Devils led 23-0 with 1:08 left in the first quarter.
The second quarter was highlighted by a cracking tackle by Csorba on the kickoff and a seven-yard sack by Romano. A 21-yard reception by Coyle helped set up Westfield's final score of the half when Niko Lukis kicked a 25-yard field goal for a 260 lead.
The second half offered a new of- fensive approach for the Blue Devils. Jordan took over as a running back and just kept chewing up the yardage and the clock. On the first play of the fourth quarter, Lukis kicked another 25-yard field goal then with 6:22 left in the game, Jordan found a seam and sprinted 52 yards for a touchdown. Jordan finished with 17 carries for 143 yards, all in the second half.
"I have been practicing running back because Josh (Caramango) got hurt. When I got out there, it was like flashback from PAL. I was playing running back my whole life. On that run when I broke free, seeing the end zone was a vision I remember from being young. It's obviously one of the best feelings I've ever had," Jordan described.
Cho expressed, "Luke's been my running back since like third grade. Fortunately he's good at DB (defensive back) but I was excited when I saw him next to me. When he broke out for that 52-yarder, I was like Ah!"
Next on the list would be a showdown with the top-seeded Phillipsburg Stateliners on November 3 at 7 p.m. Phillipsburg had beaten eighth-seeded Morristown, 49-7, in its quarterfinal.
"I think that if we keep playing the way we do, we can beat anyone anytime anywhere. We just got to keep rolling," Jordan said.
"We are ready for this. We've been ready for the whole season and we finally picked it up together and it's time for us to show up," Montez added.
Romano commented, "We lost to P-Burg our sophomore year, so we have been waiting to get revenge on them. We are ready!"
"Like you said. Hillsborough took them down and we took down Hillsborough, so we have a chance there and I think we have a good chance," Rossetti said.
"Obviously it can be done. We've beat them before in the playoffs. We are going to do it again," Cho predicted.
Clifton 0 0 0 0 0 Westfield 23 3 0 10 36