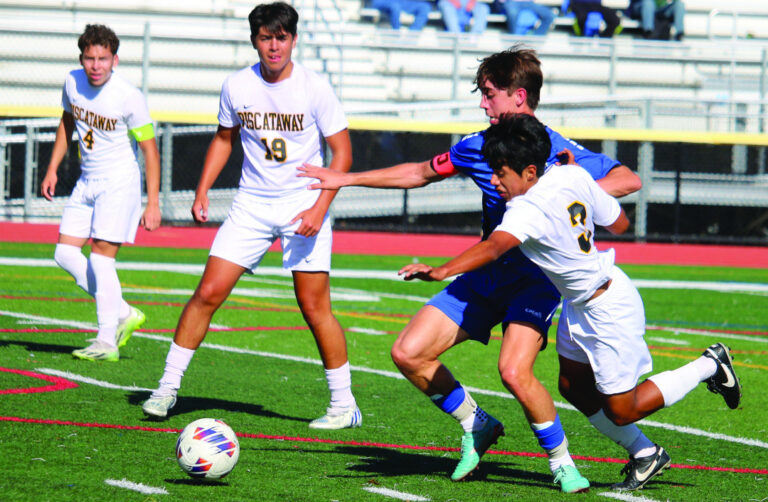 Blue Devils Rip Piscataway, Union In Boys Soccer North 2, Group 4
The third-seeded Westfield High School boys soccer team netted an early goal within the first 10 minutes, had one goal negated then added a second goal in the first half en route to a 3-0 shutout of the 14th-seeded Piscataway Chiefs in the first round of the NJSIAA North Jersey, Section 2, Group 4 Tournament at Gary Kehler Stadium in Westfield on October 25. Three days later, the 12-4-3 Blue Devils hosted the sixth-seeded Union Farmers and ended up with a 4-2 victory to advance to the semifinal round for another showdown with second-seeded Elizabeth.
Against the 9-8 Chiefs, seniorAdam Tukaczynski, junior Henry Iannuzzi and sophomore Sam Judka fired in goals, while senior Manny Gayanilo dished out a pair of assists and senior Benedict Nematadzira added one assist. Goalkeeper Luke Tennant recorded two saves and added a big knock away with 8:32 left in the first half. Co-captain Zach Preucil appeared to score a goal with 14:25 left in the first half when he beat a defender but his effort was negated by the referee.
Preucil struck gold twice and added an assist in the victory over the 11-32 Union Farmers. Ty Flannery had a goal and an assist, and Ethan Wade scored once. Nematadzira contributed an assist and Tennant recorded seven saves. Kayden Grave had six saves for Union.