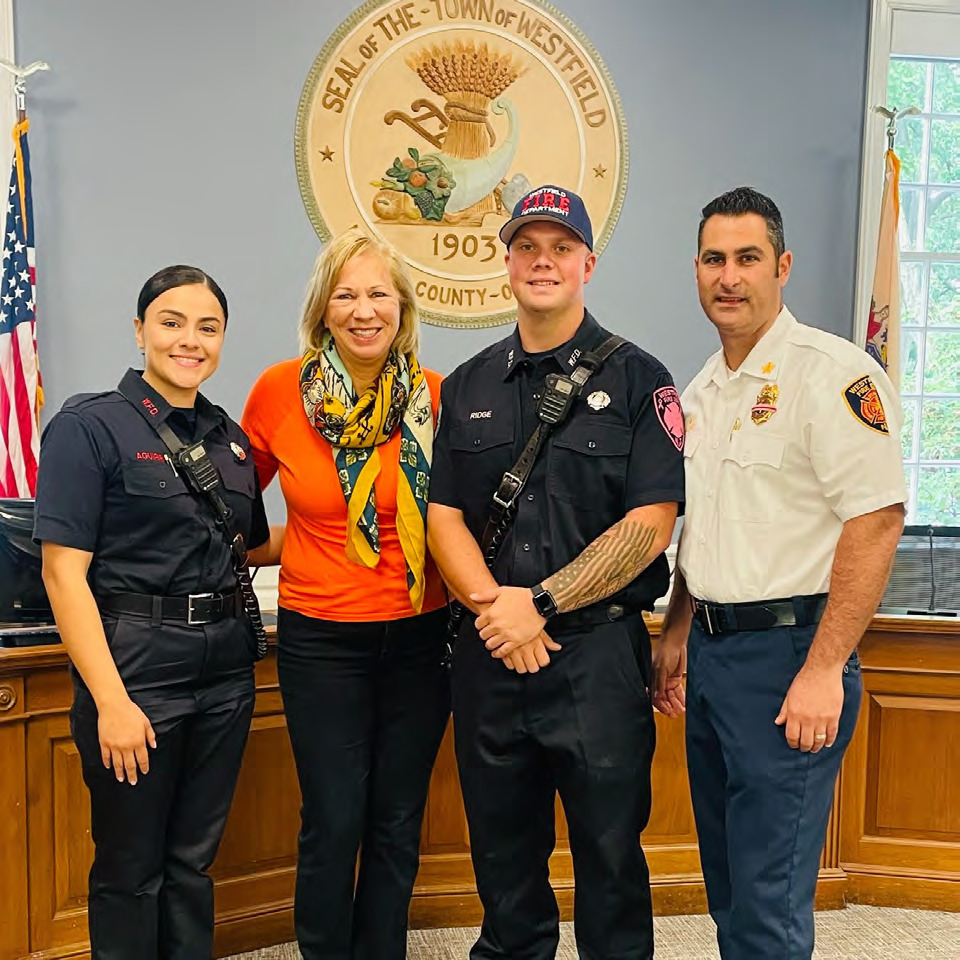 Westfield Council Shows Support For Israel, OKs Housing Settlement
WESTFIELD—TheWestfieldcommunity gathered in solidarity on Tuesday to pray for the people of Israel during a special evening vigil held at Temple Emanu-El.
"Israel was attacked by Hamas and over a hundred Israelis have been murdered, a thousand injured, and many Israelis kidnapped into Gaza," representatives from the temple said via social media shortly following last week's terrorist attack. "We stand with the Israeli people and are praying for safety and peace."
Hundreds of local residents, including Mayor Shelley Brindle and the rest of the Westfield governing body, were present for Tuesday night's service.
"I want our Jewish community to know that we are here for you, we unequivocally denounce these acts of hatred and terrorism, we stand in solidarity and grief with you, and we will not ever allow anti-Semitism to be a part of Westfield," Mayor Brindle said, speaking during a regular meeting of the mayor and council that was held immediately following the temple gathering. "The great people of this town haveshown,timeandagain,undermany difficult circumstances, that we hold one another up and we don't tolerate any hate speech or acts of bias. You are in our hearts and our prayers, and we will always continue to advocate for the safety and equality of our entire community."
The council cancelled its usual premeeting conference session in order to be able to attend the special service.
In her opening remarks, Mayor Brindle noted that she has received numerous emails from residents regarding social-media posts by Westfield BoardofEducationmemberSaharAziz, whose continuing tenure on the board was called into question last month after repeat absences. Ms. Aziz, a law professor at Rutgers University who came under fire last year for posting pro-Palestinian views without differentiating her own personal opinions from that of the board, said she felt last month's attempt to remove her from office was not so much rooted in policy as in Islamophobia and racism.
"While this elected body has no oversight of the board of education, I do want to make clear that I agree with the many residents who reached out about Ms. Aziz's disturbing and hurtful comments," Mayor Brindle said Tuesday. "I believe there is a way to show empathy for the plight of the Palestinian people while also unequivocally condemning the outrageous acts of terrorism being committed against Israel by the terrorist group Hamas. As disturbing as her comments are, however, they areprotectedbyherrighttofreespeech."
In moving to the regular business of Tuesday night's meeting, the council voted to approve a settlement agreement with Westfield Senior Citizens Housing (WSCH) in response to a longstanding property dispute between the organization and the town itself.
According to the terms of the agreement, WSCH will make a payment of $3.65 million to the town in exchange for the opportunity to renew the ground leases for two senior-housing facilities on Boynton Avenue.
"The leases for both buildings at 1133 Boynton Avenue and 1129 Boynton Avenue are retroactive to October 1, 2023, and expire on October 1, 2053, with the option of four five-year renewals," town officials said via a press release, which can be found on Page 6.
The organization, which provides housing for approximately 350 residents, will be required to pay $675,000 in annual payments which will be subject to 2.25-percent increases each year as per the initial ground lease. The total amount, town officials said via the release, represents "a substantial increase in payments from the two ground leases from 1976 and 1993, which are being replaced that had specified payments based on revenues."
"The settlement ensures that seniors remain securely in their housing with a continuity of services, as has always been our steadfast commitment, and enables Westfield Senior Housing to remain as the long-standing providers of the important services they've successfully delivered to their residents," Mayor Brindle said.
AspartofTuesday'ssettlementagreement, both WSCH and the town will agree to drop all other pending legal actions. WSCH, which owns the buildings but leases the land from the town, had filed suit against the town in 2021 after lease-renewal negotiations were unsuccessful and both entities disputed the amount of money owed in arrears for the land.
In other community news, the Westfield Fire Department welcomed two new members — Valerie Aguirre and Matthew Ridge — to its ranks on Tuesdayduringaswearing-inceremony held at the firehouse. Ms.Aguirre is the first female firefighter in the Westfield department, a milestone which Mayor Brindle said was "long overdue."
The two new recruits bring the department's total number of qualified firefighters to 38, the most the town has had since 2008.
Ms. Aguirre and Mr. Ridge will both publicly be sworn in as members of the Westfield Fire Department during the next regular council meeting, scheduled to be held at 8 p.m. on Tuesday, October 24, in the Town Hall.
Editor's Note: An editorial stating The Westfield Leader's views on the subject of Ms. Aziz's remarks and her absences from board of education meetings can be found on page 4.