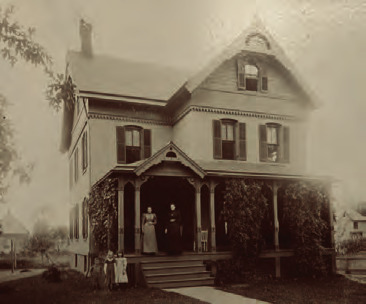 Sponsored Content
September 14, 2023
Historically Living
Researching your home's history
Old Photographs and Postcards
Written by Jennifer Jaruzelski, Historic Preservation Commission Sponsored by Carol Tener, Town Historian and Historic Preservation Commission
Thanks to their photogenic streetscapes, Westfield's historic neighborhoods live on through a wealth of personal, commercial and digital images dating to the earliest years of photography. More than just sentimental snapshots, the details embedded in vintage images can offer valuable insights into the lives of previous occupants, the architectural evolution of a property, and other surrounding changes.
Photographs
Many of our best images of Westfield's early homes come down to us through the records of its prominent residents, often as backdrops to family photographs. Charles Codding Jr. was a Republican leader and amateur photographer whose hobby included photographing the most distinguished residential and institutional properties of the day. His extensive, annotated album of over 150 black & white images is a vivid chronicle of the town between 1910 and 1915. Homes built in later years, including many postwar developments, were recorded by realtors such as C.B. Smith, who bequeathed an extensive trove of 8×10′ photographs from his mid-century real estate business. These images and many more have been catalogued by street in the Westfield Historical Society archives. For more recent visual records, Google Streetview provides a timeline feature showing an address at various dates taken since they began photographing in 2007. This feature is especially helpful in recalling the hundreds of homes lost to demolition.
Postcards
Westfield at the turn of the last century is exceptionally well-documented in postcards, many taken by Karl Baumann, a local photographer whose family owned a printing business in Germany. Stanley Lipson, an avid collector, compiled many of the finest views of the downtown, schools and neighborhoods from 1903 to 1915 into his book, Westfield in the Golden Age of Postcards, available through the Westfield Historical Society. In addition to commercially-produced cards, notes Dr. Lipson, "At one point, anyone could take a roll of film and have it printed as a postcard," as new homeowners often did. These images are rare but do surface on eBay and other auction sites. Estate sales, flea markets and used bookstores are also excellent sources for vintage postcards depicting Westfield's neighborhoods.
The Westfield Historical Society Archives, located in the Board of Education administration building at 302 Elm Street, are open by appointment on Tuesday mornings by contacting whsarchivevolunteers@gmail.com.