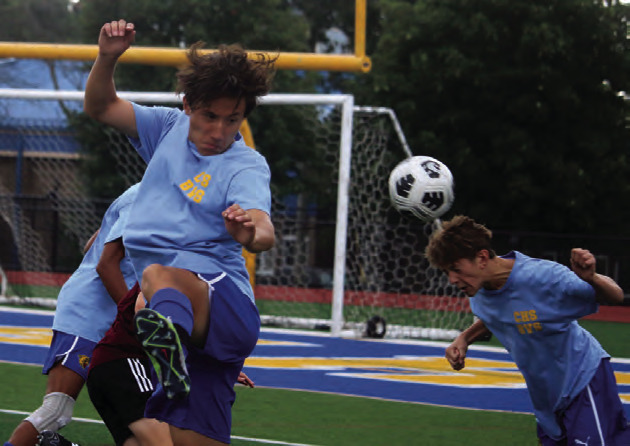 Cougars Cage N. Hunterdon In Grid Season Opener, 41-0
A fierce running game engineered by junior quarterback Tyler Veltre and a stubborn defensive effort from his teammates directed the Cranford High School football Cougars to a 41-0 triumph over the North Hunterdon Lions in Annandale on September 1. It was the season opener for the 1-0 Cougars, while the Lions slipped to 0-2.
The grueling running game produced 413 yards and all six of the Cougars' touchdowns that were backed up by successful points after by Ryan Carracino. Senior running back Fire Anderson burned up the turf with 179 yards on 26 carries, which included three touchdowns. Junior Dylan Jones carried 12 times for 119 yards, including a pair of touchdowns and junior Amari Petgrave had seven rushes for 40 yards, including a touchdown. Veltre carried nine times for 74 yards. The Cougars also had a one-yard run.
Veltre completed all six of his pass attempts for 53 yards and his North Hunterdon counterpart Tyler Anderson was forced to go to the air 28 times but completed only seven of them for 126 yards. Cougar senior receiver Billy Caminos had two receptions for 18 yards. Junior Ryan Gregersen had two receptions for 26 yards and Carracino had two grabs for nine yards.
Tyler Anderson's primary receiver was Matt Rody, who had four grabs for 87 yards. Nick Ramaci had three receptions for 39 yards. The North Hunterdon Lions managed only 44 yards on the ground with Anderson carrying six times for 25 yards. Dan Canavan had five carries for 14 yards and Dan Kan carried twice for five yards.
Fire Anderson scored on a fiveyard run then added a 10-yard scoot to give the Cougars a 14-0 lead after the first quarter. Jones slipped into the end zone from five yards out early in the second quarter then Petgrave put the Cougars up 28-0 at the half with a two-yard bash. Jones had a 14yard touchdown run in the third quarter and Anderson added his third touchdown with a three-yard run in the fourth quarter.