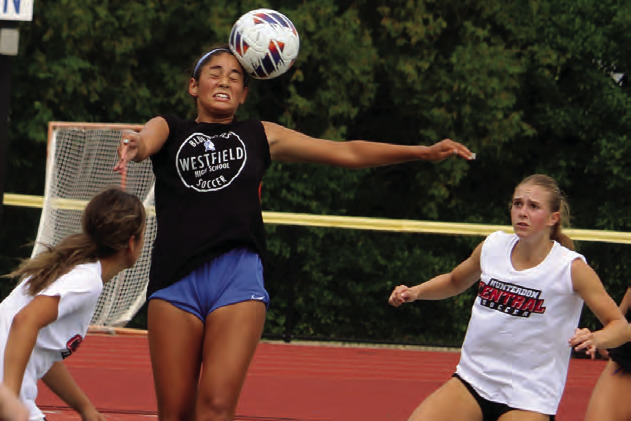 Blue Devils Fully Reloaded in Girls Soccer
Two unbelievably great seasons left the Westfield High School girls soccer team at the top of the rung in 2021 and very near the top in 2022 in the state. In the 2021 season, the Blue Devils won the Watchung Conference, Union County and Group 4 titles and completed an undefeated season (21-0-1) to be claimed the No. 1 team in New Jersey. Last year the Blue Devils won their third straight UCT title, played to a shootout in the North Jersey, Section 2, Group 4 championship game and finished with another unbeaten season at 15-0-4 to up their two-year total to 36-0-5 to be ranked No. 4.
The Blue Devils graduated several super athletes, including strikerAlyssa Martinez, goalkeeper Sutton Factor, Chiara Cosenza and Emma Kelesoglu, but return a number of super athletes and look forward to another great season.
"Making back to back sectional finals is not easy to do and to be one kick away from winning back to back sectional championships was something special. The 2022 Senior class has a tremendous amount to be proud of finishing 1st and 4th in the state respectively the last two years. Our 2023 team is fully reloaded and ready to compete," Blue Devil Head Coach Alex Schmidt said.
Presently, as of August 29, the possible strikers will be seniors Ella Cadigan and Marisa O'Connell, along with freshman Georgia Morelli. In the midfield could be junior Brooke Morrison, sophomores Callie Schmidt and Ashley Yenawine, seniors Rebecca Xiong and Sofia Gesser, and freshman Emilie Cadigan. On defense will be juniors Audra Toth and Erin Hazard, senior Kate Giglio and sophomore Olivia DeGregorio. Senior Bridget Holland and sophomore Sofia Buoscio will occupy the goalkeeping position.
Additional players on the roster are juniors Olivia Thornton and Lauren Furey, sophomores Andie Janota, Mary Lane and Sophie Lane, and freshman Molly McDermott. With the exception of the freshmen, all the strikers, midfielders and defenders have adequate game experience. Ella Cadigan, who scored six goals and had four assists last year, should be a key factor up front.
The Blue Devils will open their season at home today, Thursday, September 7, at 4 p.m. against Elizabeth at Gray Kehler Stadium. They will travel to Kearny Saturday to face the Kardinals at 10 a.m.