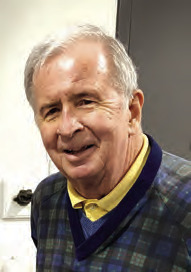 Obituaries
September 6, 2023
Kenneth J. Halpin
Kenneth J. Halpin (Ken), 83, of Bonita Springs, Fla., died Wednesday, August 16, 2023, of medical complications at Gulf Coast Medical Center in Fort Myers, Fla. He passed peacefully with his four children at his bedside. After a year's-long battle with blood cancer and Parkinsons, Ken put up a good fight to get well. The most important thing in life to Ken was his wonderful, large, extended family who made him so proud.
Born to Joseph Halpin and Genevieve Falkowski Halpin in Jersey City, N.J., Ken attended St. Aloysius Grammar and High School. He learned early from his dad, Joe, to be a lifelong sports fan, rooting for his beloved Yankees and New York Giants Football. While at St. AI's High School, Ken joined the track team and took first place in the quarter- mile event at the New Jersey Statewide Championships. Ken married his high school sweetheart, Barbara Leonard, and started his family of four children at a young age. He graduated from St. Peter's College in Jersey City and began his Wall Street career while continuing his education with graduate studies at NYU. After twelve years at Irving Trust, Ken moved on to Discount Corporation of NY, where he rose to become Treasurer and CFO. He retired in 1995. The Halpin family lived in Westfield, N.J., where Ken was a member of the Westfield Jaycees, doing charitable work while making great long-time friendships. During his working years in New York, he became an avid New York Rangers Hockey fan, going to as many games as he could with business associates and friends at Madison Square Garden. A second marriage, to Phyllis Varano, expanded
Kenneth J. Halpin, 83, Family Man,
Retired Executive, Avid Sports Fan
their family to six children. Ken also took up golf and became a long-time member of Echo Lake Country Club in Westfield. The Halpins enjoyed a summer house on Long Beach Island at the Jersey Shore but ultimately opted for a winter getaway in the golf community of Pelican Landing, Bonita Springs, Fla. After Phyllis passed away, Ken was fortunate to be introduced to Letitia Morrisey, whom he married, bringing three more children into the family. They enjoyed much happiness until her passing in 2021. In Florida, Ken became a long-time member of Pelican's Nest Golf Club and was one of the founders of the Creekside Boys Men's Golf Group at the Club. His family were parishioners of St. Leo's Roman Catholic Church in Bonita Springs.
Ken is survived by his sister, Joanne (Ken) Hoover; former wife, Barbara; sons, Greg Halpin of Cranford, N.J., and Brian (Cathy) Halpin of New York City; daughters, Laura (John) Chinchar of Cranford, N.J., and Christy (Rich) Wright of Belmont, Mass. He additionally is survived by his stepchildren, Michael (Michelle) Varano and Donna (John) Molinelli.
There are also twenty-one surviving grandchildren and step-grandchildren.
May Ken Rest in Peace. A memorial visitation will be held at Dooley Colonial Home, 556 Westfield Avenue, Westfield, N.J. 07090, on Friday, September 8, from 4 p.m. to 7 p.m. The Memorial Mass will be held at St. Helen's Roman Catholic Church, 1600 Rahway Avenue, Westfield, N.J. 07090, on Saturday, September 9, at 10 a.m. Interment will follow at Fairview Cemetery in Westfield.
September 7, 2023