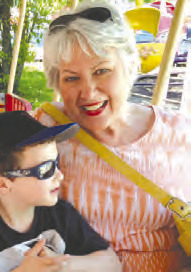 Obituaries
September 6, 2023
Janice Lenehan
On Thursday, August 31, 2023, Janice Lenehan died of cancer peacefully, with grace and dignity, surrounded by her family.
Jan was born in 1951 to Ernst and Ruth Gleitsman. She lived in many places, but settled in Westfield in 1978, where she has been a dedicated member of the community for 45 years.
Jan worked for Johnson & Johnson, retiring in 2012, and served as the Worldwide Director of Employee Assistance. Her work at J&J fulfilled a lifelong mission to bring mental health services to people in need around the globe. Since her retirement she has been an active volunteer for various charitable organizations.
Family and Friends Mourn
Passing of Janice Lenehan
Although she excelled in her professional career, her greatest passion was being a mother and a grandmother. She is survived by her husband, Bob; her daughters, Regan (Jody Horton) and Mairen ( Mike Romaszka); grandchildren, Fields Horton, Hyder Horton, Michael Romaszka and Sasha Romaszka; and her sister, Joy Kasprzak (Walter), along with many other treasured family members. Jan was an extraordinary woman. She leaves behind a legacy of laughter, kindness and a zest for life that will forever echo in the lives she touched.
The family is planning a memorial service to be held at a later date.
September 7, 2023