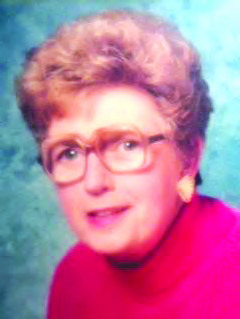 Obituaries
August 30, 2023
Marylou Delano, Registered Nurse
Marylou Delano (née Lyons) died on Saturday, August 26, peacefully and surrounded by family. She was predeceased in 2015 by her husband, Hugh S. Delano, to whom she had been married for 57 years. Survivors include sons Jonathan, Peter (Sue), Buzz (Lisa) and Craig (Kim); four grandchildren; one greatgrandchild; many nieces and nephews, and many dear friends. She was predeceased by her siblings, Betty Thome, John Lyons, Carolyn Geiger and Gerard Lyons.
Marylou was a lifelong resident of Cranford, a Roosevelt School pupil and graduate of Cranford High School. She was graduated from the Elizabeth General Hospital School of Nursing and Union County College.ARegistered Nurse for 43 years, she was Board Certified by theANCC in medical surgical nursing and gerontology. She was leader of her nursing school class and a New Jersey state representative to the National Student Nurse Convention in Chicago, Illinois. She served as president of the EGH alumni and was an active member and president of the League for the Educational Advancement for Registered Nurses.
She served on the board of the Union County Association for Children with Learning Disabilities and the Cranford Visiting Nurse Association. She went on to serve as an active member and president of the Board of Directors of the Visiting Nurse and Health Services in Elizabeth. In 1977, she was selected as the Union County Woman of Excellence in Healthcare. She participated in the Harvard Nurses' Health study since its inception in 1977. She volunteered for ARC, Hospice, United Way, PTA, Cranford Boys Baseball League and as a Cub Scout Den leader. She had been a member of the Cranford Junior Women's Club. She was a member of the Cranford Historical Society and Friends of the Cranford Public Library.
Marylou was an avid reader and enjoyed music, theater, antiques, writing and animals. Her greatest happiness was time spent with her family and friends. In lieu of flowers, the family would appreciate donations for Cranford Family Care, The Salvation Army and The Seeing Eye of Morristown, N.J.
Arrangements are by Gray Funeral Home of Cranford. Please go to grayfuneralhomes.com for funeral information and online condolences.
Marylou Delano
August 31, 2023