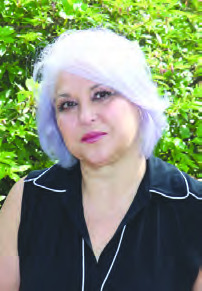 Union Professor to Receive Prestigious National Award
CRANFORD — Union College of Union County, New Jersey has announced that Chemistry Professor Shahrzad "Sherry" Heidary will receive the Association of Community College Trustees (ACCT) 2023 Northeast Region Faculty Award.
Professor Heidary will formally accept the award in October at the Awards Presentation during the 54th Annual ACCT Leadership Congress in Las Vegas. By receiving the Northeast Region award, Professor Heidary is eligible to receive the national William H. Meardy Faculty Member Award. The winner also will be named at the Leadership Congress in Las Vegas.
Professor Heidary joined the college in 2006 as an adjunct instructor. During her time at the college, she has served as an advisor to the Student Government Association, American Honors Council, and Phi Theta Kappa International Honor Society. Additionally, she serves as a trustee on the Union County College Foundation Board and as a board member of the YWCA of Union County.
Professor Heidary is "highly present and visible on campus, goes above and beyond for students, and is extremely active in scholarship and fund-raising endeavors," read a statement from the college. "In fact, both of the College's 2023 Jack Kent Cooke Foundation transfer scholarship recipients received the Professor Heidary scholarship to help fund the cost of attendance."
She holds a Bachelor of Science in Polymer Engineering and a Master of Science in Polymer Science. "We are very proud of Professor Heidary. There is no one more deserving of this recognition. She is a master teacher, and she loves her students. She goes above and beyond to help them excel in their classes. For a chemistry professor to be truly beloved, it is quite the feat. We count Professor Heidary among our most outstanding faculty at Union," stated Union President Margaret M. McMenamin, Ed.D.
The ACCT is a non-profit educational organization that represents more than 6,500 elected and appointed trustees who govern more than 1,200 community colleges, and over 11 million students, throughout the United States. The ACCT annually recognizes trustees and other community college leaders in each of its five regions for their contributions.
Union College of Union County, New Jersey is a public, comprehensive community college that provides educational programs to the greater Union County region. It is the first of New Jersey's 18 two-year colleges, serving both career-minded and transfer-oriented students since 1933. Union provides many experiential learning opportunities such as access to a Bloomberg Business Center, Innovation Center, and Student Research hub. To learn more, visit www.ucc.edu.