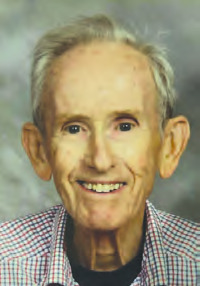 Obituaries
August 17, 2023
John Biglin Healy, Cherished Father, Grandfather and Great-Grandfather
John Biglin Healy, cherished father, grandfather and great-grandfather, passed away at age 100 and 7 months on Sunday, July 30, 2023, in Neptune, N.J., surrounded by family and loved ones. John led a life devoted to his wife, his family, his faith and his country. He was beloved and inspired those he met.
Born and raised in the Village of Babylon, N.Y., John spent over 40 years working for Merck. He lived for many years in Egypt, Greece and Turkey and traveled throughout Africa, the Middle East and Europe, before settling in Westfield, N.J., for twenty-plus years. John spent 1958-1967 managing Merck's office in Cairo, Egypt; from 19671968 in Athens, Greece, and then worked for another 24 years out of Rahway, N.J. He and his wife, Herta, moved to Neptune, N.J., in 2002.
Mr. Healy proudly served in the United States Navy during World War II. He was assigned to the 2nd Marine Division and was part of the Scouts Snipers during the World War II Pacific Campaign, serving as a pharmacist's mate second class (medic). He was among the first group of Americans to go into Nagasaki 25 days after the dropping of the atomic bomb.
John was predeceased by his beloved wife, Herta G.; his son, John F.; his grandson, Riley W. Davis, and his six brothers and sisters. John led a full, fearless and adventurous life, deeply rooted in his faith and his delight in people, sailing, botany, music, books — and during his later years, in walking the Belmar boardwalk. Surviving are his children, Bridget M. Healy and her husband, Richard Sandler; Patricia M. Healy and her husband, Sergio Terrazas-Torres; David M. Healy and his wife, Julie; Christopher S. Healy; and Mary Davis and her husband, John; his nine cherished grandchildren and seven greatgrandchildren.
All services were private. Gifts in John's memory can be made to St. Rose Catholic Church, 603 7th Avenue, Belmar, N.J. 07719, or to The Island Institute, which works to sustain Maine's island and coastal communities, at 386 Main Street, Rockport, ME 04841.
To send condolences, please visit www.obrienfuneralhome.com.
August 17, 2023