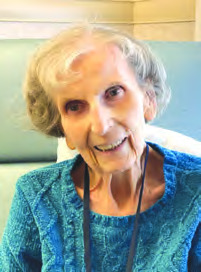 Obituaries
August 17, 2023
Anne C. Brower
Anne C. Brower, 90, of Bethlehem, Pa., passed away on Saturday, August 12, 2023, at the Hospice House of St. Luke's in Bethlehem. She was the wife of William D. Brower for 41 years until his passing in 1999. Anne was born in Jersey City, N.J., on March 9, 1933, daughter of the late John A. and Anna (Cronin) Curry.
Anne graduated from St. Aloysius Academy in Jersey City in 1950 and received her Bachelor of Arts in Mathematics from Douglass College and her Master's in Education from Columbia University in 1956. Anne was a math teacher with the Roselle Park School District and retired as the Math Supervisor for the district. Anne was a faithful member of St. Anne's Catholic Church of Bethlehem.
Survivors include her daughter, Barbara Helm, wife of Jeffrey; son, Stephen Brower; nephews, Kevin Long, husband of Rosemary, and Tom Long, husband of Melanie, and a niece, Janet Lettang, wife of Frank. She was predeceased by a sister, Jeanne Long. The viewing will be held on Saturday, August 19, 2023, from 9 a.m. to 11 a.m., followed by the funeral service at 11 a.m., all at the Herron Funeral Home, 458 Center Street, Bethlehem, Pa. 18018. Burial will take place at Saint Gertrude Cemetery in Colonia, N.J. For information, go to www.herronfuneralhomes.com.
In lieu of flowers, memorial contributions may be made to the Healthcare Center at Moravian Village of Bethlehem, 526 Wood Street, Bethlehem, Pa. 18018.
Anne C. Brower
August 17, 2023