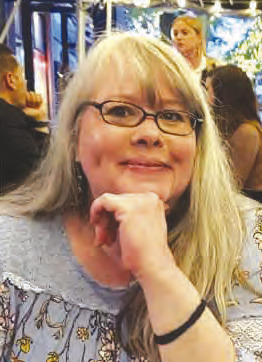 Kimberly L. Williams-Shuker
Kimberly L. Williams-Shuker, 52, of O'Hara Township, Pa., passed away unexpectedly at home on Sunday, July 23, 2023. Wife, best friend and soul mate of Michael T. Shuker; daughter of John and Eileen Williams; sister of Becky ( Jeff) Randazzo; aunt of Dylan, Jake, and Nina Randazzo; daughter-inlaw of William and Joanne Shuker; sisterin- law of Michelle Shuker and Stephanie (David) Reilly, and their children, Patrick and Jane Reilly. Kim will be missed by her beloved cats, Max, Seth, and the late Maggie, Tess, Stu, Eddie and Marty. She also leaves behind friends all over the country and beyond.
Kim was born and raised in Cranford, N.J., graduating from Cranford High School in 1988. She then went on to graduate from Columbia University in 1992 with a Bachelor of Arts in Archaeology. She went on to get her Ph.D. in Anthropology from the University of Pittsburgh in 2005, with a specialty in contact period Northeast U.S. archaeology. Kim was an adjunct faculty member at the University of Pittsburgh since 2005. She also worked as a Senior Analyst at Prescott & Associates since 2012. Since 2014, Kim was a member of the board and past president of Calliope, the Pittsburgh folk music society.
Kim loved her cats and was the best cat mom any cat could have hoped for. She enjoyed cooking and was known for her themed dinners for the Olympics and other special events. She loved to spend time in her garden, having worked Kimberly Williams-Shuker
on a co-op farm for a number of years, and brought her love and knowledge to her home garden. She loved to travel and loved going on road trips all across the U.S. and Canada, especially visiting archaeological sites, with L'Anse aux Meadows being the most recent last month. While Mike did all of the driving, she was the best navigator anyone could have asked for, with or without GPS. She loved the Jersey Shore, especially LBI and spending time with her family at her sister's house by the beach. She loved music and was an extremely accomplished flautist. She loved attending concerts, having had an 80's alternative music concert list that rivaled anyone's. She is currently survived by the Old 97's.
She was a member of the LearnedLeague, which, along with the Sunday NYT crossword, provided a great deal of intellectual fulfillment. She also loved keeping in touch with her old friends from high school and college, whether in person or on Zoom.
The funeral was private. There will be a celebration of Kim's life at a later date for all of her friends and family.
In lieu of flowers, memorial contributions can be made to either the Greater Pittsburgh Food Bank, www.pittsburghfoodbank.org, or to the Animal Friends of Pittsburgh, www.thinkingoutsidethecage.org.
Professional services were entrusted to Thomas M. Smith Funeral Home & Crematory Ltd.; www.thomasmsmithfuneralhome.com.
August 3, 2023