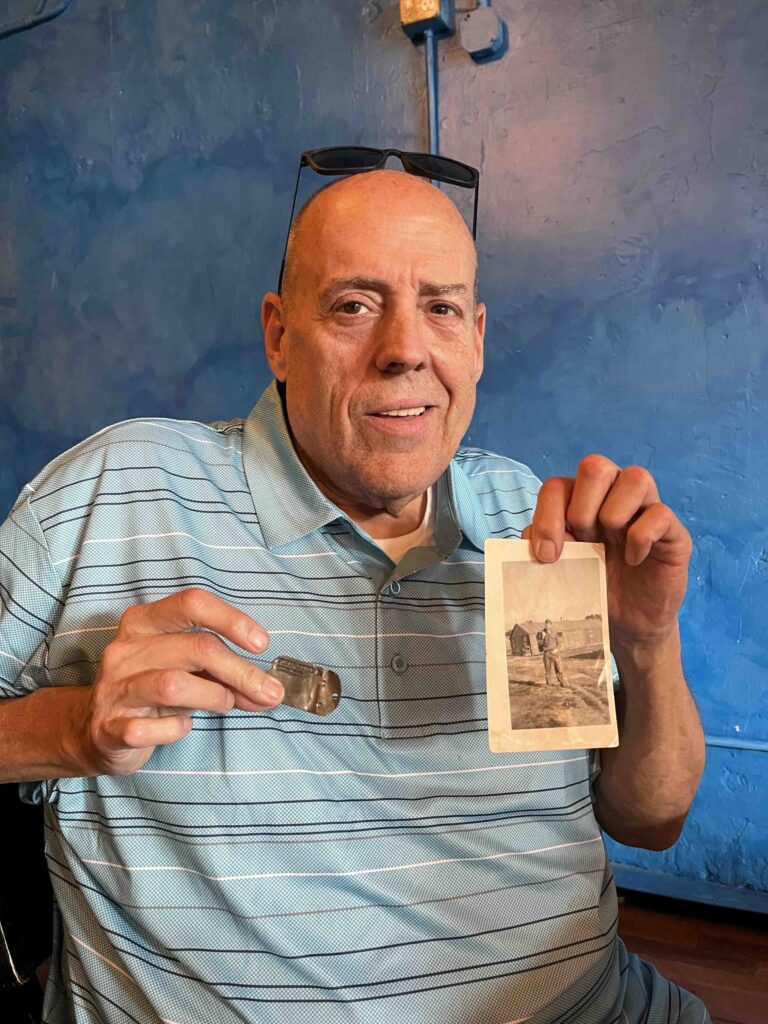 Dog Tag Helps Westfield Man Rediscover His Dad
WESTFIELD — A Westfield man has been reunited with an important memento from the past, thanks to an unlikely set of circumstances involving a World War II Army veteran, a decommissioned Belgian air base and a young urban explorer with a passion for uncovering history.
The story begins in a small town near Belgium that once played host to the British Royal Air Force back in 1939.
"This is one of those places that has been forgotten over time," said Randy Buelens, a Belgian native and local history buff who started exploring the now-defunct base about five years ago. "There is still an airstrip there, but it hasn't been used for military purposes in decades. I got curious about what sorts of things may have been left behind, and I decided to start heading back there with my metal detector."
After a few unsuccessful trips that mostly turned up old soda cans and a few pieces of scrap metal, Mr. Buelens, 25, hit pay dirt.
"All of a sudden, I started to find all of this American stuff lying around — gear, old pieces of machinery, all kinds of things — and I was really surprised," he said. "I was expecting to find things that had been left by the British Army, or maybe even from the Germans, but there it was. It turns out that the American army used the base in about 1945 as a supply depot, and that's where all of this came from."
As Mr. Buelens continued to search the base, pieces of forgotten American history — including numerous dog tags once worn by U.S. soldiers during World War II — began to emerge from the detritus.
And while it would have been easy enough to keep the little ID tags as interesting souvenirs, Mr. Buelens had a different plan.
"I started doing some research, and I was able to learn a lot about who these tags belonged to," he said. "I decided that it wouldn't be right to hold onto them, knowing what they were, so I started reaching out to family members, or, when I could, the veterans themselves, to let them know what I had found."
Now, after months of research and careful planning, one of these tags has, against all odds, made its way home to Westfield.
"I was very skeptical at first," said Eugene Porta, who lives here in Westfield with his wife, Kathy. "This guy finds me out of the blue and says he thinks he found my father's dog tags in a Belgian Army camp? No way. My wife was positive it was a scam, and a nasty one at that. But once we started talking, I realized this was the real deal."
The proof, Mr. Porta said, came when Mr. Buelens revealed that the name on the tag was "Patsy" and not "Pasquale."
"Patsy was my dad's nickname," Mr. Porta said. "Dad died a long time ago, so there's no way that anyone outside of my family would have known to use that name if they were just digging through old records and trying to pull something over on me. I thought it was weird that the government would have let him use a nickname on something so official, but that really convinced me."
After contacting a number of family members and veterans, Mr. Buelens took his quest one step further and decided to fly to America to return the tags to their rightful owners in person.
"This started out as a hobby, but it's a lot more than that now," Mr. Buelens said. "I have made three trips to America now, and every one of them has helped me to fill in the gaps and to learn more about this story. It has all been very emotional. It feels important."
So last month, on Father's Day, the Portas — though still slightly apprehensive — traveled to Jersey City to meet up with Mr. Buelens and hear his story.
"Eugene is very trusting, but I was still nervous," Kathy Porta said. "You just hear so many lousy things…I'm still not going to start trusting every stranger I meet on the internet, but in this case, I was wrong. And I'm really glad I was."
Mr. Buelens and the Portas spent the afternoon swapping stories and getting to know each other. The dog tag, meanwhile, is now safely back in Mr. Porta's possession.
"My dad passed when I was only 9 years old, so I don't have anywhere near as many memories of him as I wish I did," Mr. Porta said. "But all of this — meeting Randy, talking to my family about this whole thing, seeing the dog tag — it's all made me realize that I remember more than I thought I did. At the end of the day, this has given me a way to reconnect to my dad, and I'm so grateful for that. It's really remarkable."
As for Mr. Buelens, the treasure hunt continues.
"I'm planning on turning all of this into a book," he said. "I have met some really wonderful people by doing all of this, and they have all of these great stories. I'm going to keep looking, too. I feel like I'm uncovering these hidden little pieces of history, and I don't plan to stop any time soon."