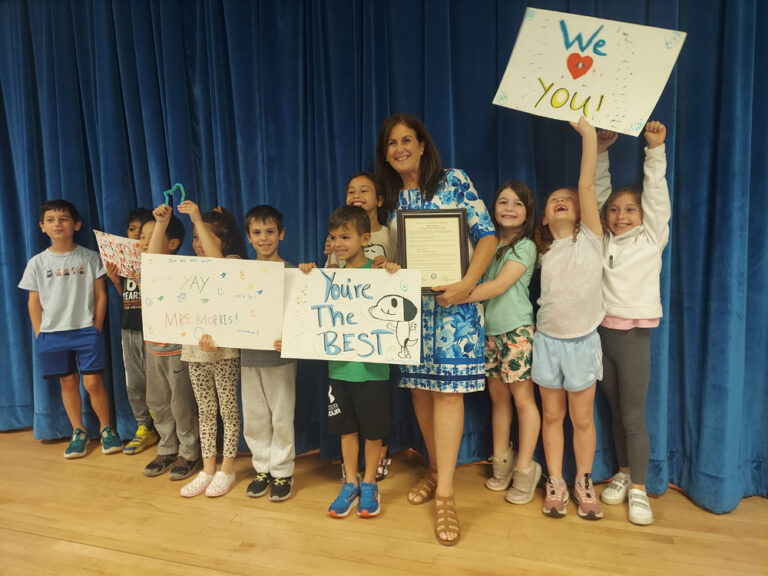 Sonal Patel Elected President Of BOE; Three Sworn In
WESTFIELD — The Westfield Board of Education (BOE) swore in three members, chose new leadership and bid farewell to Michael Bielen at Tuesday night's reorganization meeting.
Sonal Patel, who joined the board in 2021, was elected by her peers to serve as this year's board president.
"Sonal has been on the board for two and a half years at this point as co-chair of our policy committee, and I have been very impressed by her work. She brings experience as a classroom teacher, which is something we have not had on this board for a long time. I think she will do an excellent job," said board member Brendan Galligan, who held the position last year.
Board member Sahar Aziz, last year's vice president, congratulated Ms. Patel on her achievements, noting that it was great to see "a woman of color in such an important leadership role."
Ms. Patel, who received a unanimous vote of support by the board, thanked the group for its consideration and said she looks forward to continuing to serve the district.
Robert Benacchio, who was elected to the board in 2022, was named as this year's board vice president.
"Rob and I have known each other for a long time. We come from different backgrounds and have different ideas, but we work well together and I appreciate his ability to compromise," said board member Mary Wickens.
Ms. Aziz, who said Tuesday that she had not been made aware of Mr. Benacchio's intention to seek the office, voted against his nomination. All other members of the board voted in his favor.
Mr. Galligan, Kent Diamond and newcomer Charles Gelinas were sworn in to three-year terms following the April 25 election.
This marks Mr. Diamond's second elected term on the board, having first been elected to serve in 2017 and then losing two bids for reelection in 2020 and 2021. He was appointed last year to fill Amy Root's unexpired term after her resignation.
The board expressed its collective thanks to Mr. Bielen, who, after serving on the BOE for six years, opted not to seek reelection to another term.
Throughout his time on the board, Mr. Bielen has served as the chairperson of multiple committees, including, among others, the Facilities and Finance Committee, the Curriculum, Instruction and Programs Committee, the Long-Range Planning Committee and the Technology Committee.
According to a resolution passed in his honor on Tuesday, Mr. Bielen's "extensive knowledge of the district and communications expertise has proven invaluable."
"I want to thank the Westfield community for the honor and privilege of serving on the Westfield Board of Education for these past six-plus years," Mr. Bielen said.
In other district news, Marie Morris, a first-grade teacher at Wilson Elementary School, was named as this year's recipient of the Charles Philhower Fellowship Award.
The fellowship was created by the Rotary Club of Westfield in honor of Charles Philhower, who served as the district's superintendent from 1917 to 1947. According to information provided by the district, Mr. Philhower, who also co-founded the Rotary Club and served as its president, "helped to establish Westfield as a premier school district in the state of New Jersey."
Each year, explained Superintendent Raymond González, Ed.D., the fellowship is presented to an elementary-school teacher who exemplifies the true spirit of childhood education.
According to a resolution drafted in her honor, Mrs. Morris, who joined the district in 2006, was chosen as this year's award recipient in recognition of her "outstanding teaching," her "interest in children" and her "continued pursuit of professional growth."
"Marie Morris is commended as an extremely dedicated and passionate teacher who goes out of her way to meet the needs of all of her students while making learning fun, and for her commitment to the students, staff and families of the Westfield Public Schools," the resolution states.
In addition to numerous friends, family members and co-workers, Mrs. Morris was joined Tuesday by dozens of students who turned out with their parents in tow to congratulate her and to thank her for all that she has done for the district.
"Day in and day out, Mrs. Morris brings her class together to grow as readers, writers, mathematicians, scientists and historians, but maybe most of all, as people," said Wilson School Principal Crystal Marsh. "You can see by the number of people who came out to support you here tonight how appreciated and valued you are," she added, addressing Mrs. Morris.
And while the words of her colleagues and peers were, as Board President Patel said, "a fitting tribute to the nobility of the teaching profession," it was her students who said it best.
"We love Mrs. Morris! That's our teacher!" exclaimed the first-graders, grinning broadly and waving hand-drawn signs.
Mrs. Morris thanked the members of the Wilson School community for their continued and dedicated support.
"Last week, when I was asked why I wanted to be a teacher, I immediately thought of my mom," Mrs. Morris said. "She was also a teacher, who worked in the field for more than 30 years. She was my mentor, friend, and a wonderful role model, and she still is. I am honored to have followed in her footsteps, and humbled to have been chosen for the Philhower Award."