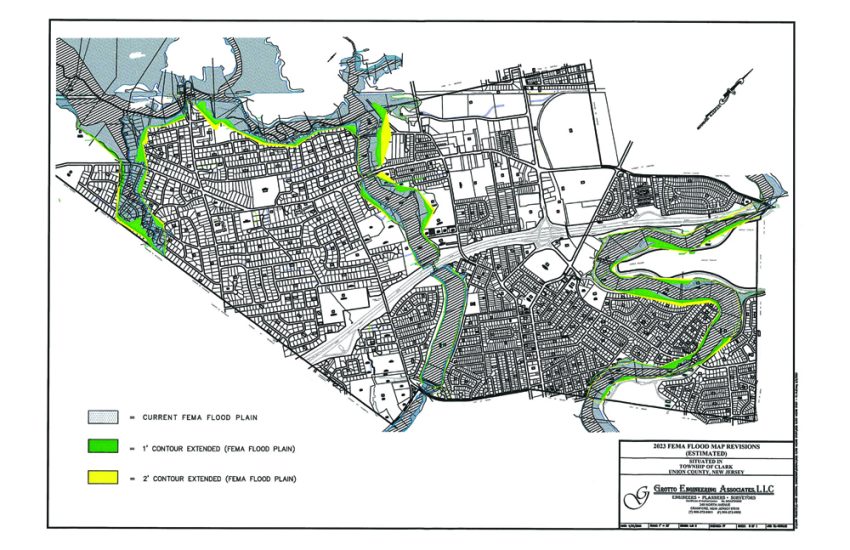 State Mandates Could Impact Local Floodplains
CLARK — A series of new statewide environmental regulations aimed at standardizing floodwater management programs could result in new insurance obligations for local residents.
In a draft rule proposal filed on December 5 of last year, the New Jersey Department of Environmental Protection (NJDEP) posed a revision to the state's Stormwater Management (SWM) and the Flood Hazard Area Control Act (FHACA) that would impose new regulations on development projects and certain land usages in flood-prone areas.
According to information provided by the state, the proposal was "spurred by the devastation caused by the remnants of Tropical Storm Ida."
The proposed amendments and new rules, the NJDEP wrote, "would ensure that development in flood prone areas and stormwater management systems throughout the State are constructed to more protective standards that reflect projected precipitation due to a changing climate, especially as to increased precipitation events."
The amendments also would impose new floodplain definitions for river-adjacent property owners, a fairly common status for Union County residents.
On Monday, during a regular meeting of the Clark Township Council, several such property owners stepped to the podium to share their concerns about the changes and their potential impact on the community.
"In tandem, both revisions [the NJDEP amendments and a recently-mandated revision to the Township's Flood Damage Control Ordinance] increase the regulatory flood elevation, expand the regulatory flood area and mandate potentially burdensome requirements on development applications which must be met when any work is performed in and around floodplains," Mayor Sal Bonaccorso wrote in a letter addressed to any potentially impacted residents in February. "In many cases properties will be impacted which were never impacted before under prior regulations. In addition, this change will most likely affect your flood insurance rates."
By way of background, Clark Township Engineer Rich O'Connor said Monday, the township has had some iteration of a flood damage control ordinance on the books since it began participating in the state's flood management insurance program in 1971. The ordinance has been amended over the years, Mr. O'Connor said, to account for changes in topography and adjustments to the floodplain map.
In November of last year, Mr. O'Connor said, the Federal Emergency Management Agency (FEMA) informed the township that another revision — this one based on a floodplain model that widens the area of inclusion — would need to be implemented this year.
"I don't really understand this," Clark resident Linda Cerminaro said. "Since I've been living here, I've never had a drop of water in [my house]. I spoke to my neighbor who lives two blocks away, and he said that when he preemptively asked his insurance company about it, they told him flood insurance can cost as much as $1,500 per year, and it doesn't even cover damage to the basement."
Flood insurance is not mandatory for homeowners in New Jersey, but it may be a requirement in order to qualify for a mortgage for property owners who live in an area designated as at a high risk for flooding.
"We are not happy about this," Mayor Bonaccorso said Monday. "Right now, it doesn't make a lot of sense to me or to the members of the council."
Several residents raised questions surrounding a township-issued map that offers a projection of what the changes could entail. The map, which can be viewed on the township's website, also served as a basis for the mailing list that the township used to send out its letters of notification.
"We don't have the final map yet, so it's entirely possible that you may not be impacted even if you got the letter," Mayor Bonaccorso said. "We felt it was best to err on the side of caution and get the word out to anyone who even comes close."