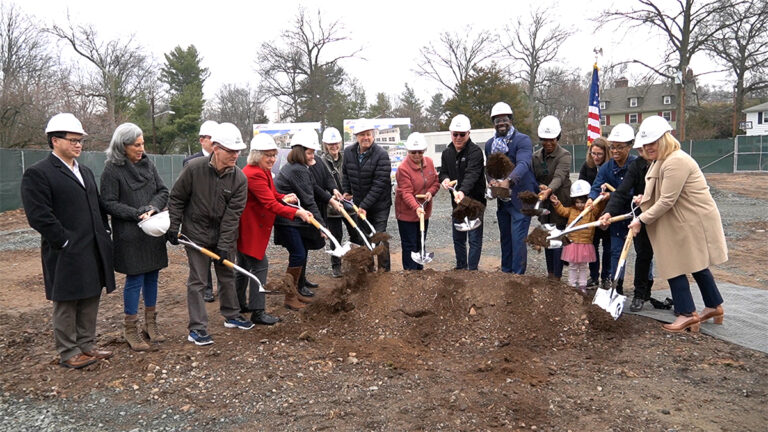 Updates Provided On New Library And Carano Square Projects
FANWOOD — Updates on two major construction projects — the new library and the Carano Square development — were presented at Tuesday's borough council meeting.
The council passed a resolution extending the date for completion of the new library by 58 days, to March 29, 2024. The $8.2-million project, funded in part by a state bond, is expected to get underway in the next few weeks, according to Borough Engineer Antonios Panagopoulos, once M&M Construction secures the needed permits. He told the council the extension of the deadline to complete construction was because the demolition of the former library building took longer than expected. The new date will not result in any increased costs to the borough, he added.
A groundbreaking ceremony at the new library site was held on Monday afternoon, with Mayor Colleen Mahr, Council President Jeffrey Banks, Council members Anthony Carter and Gina Berry, Library Director Dan Weiss, other library officials, and State Librarian Jennifer Nelson in attendance.
In other business, Economic Development Director Liz Jeffery told the council that site plans for the Carano Square project will be submitted to borough officials in the next few weeks and that, "optimistically," construction can begin in the fall. The $52-million project, on the site of the former A&P supermarket on South Avenue, will include 140 apartments, 21 of which will be tagged as affordable units, along with a 5,000-square-foot restaurant and a new building for the liquor store. Ms. Jeffery said construction will take 24 to 30 months.
Councilman Carter said the finance committee he chairs is "trying to get the [2023 operating] budget across the finish line," with an expected introduction by the end of March. He said he is waiting for financial statements from the borough's auditor. Councilman Carter added that after the budget is finalized, he wants to discuss with his colleagues other potential revenue sources to be used in coming years.
Mr. Carter also said that all borough employees and retirees have been switched into a new insurance fund from the state fund for "economic and cost reasons." He commended the administrative staff for their efforts in making the switch smooth and said the new insurance fund is "an absolute success all the way around."
Councilwoman Kathy Mitchell said that, "we're going to reinvigorate the Green Team," which was set up just before the pandemic three years ago and had never gotten off the ground. A meeting will be held on Tuesday, March 7, at 7 p.m., at Forest Road Park. She invited any interested residents to attend.
Councilwoman Mitchell also announced that the recycling center on North Avenue will be open on Saturday, March 4, from 8 a.m. to 11 a.m.
Councilwoman Erin McElroy Barker said the new playground at LaGrande Park is open and that a ribbon-cutting ceremony will be held on Sunday at 10 a.m. She added that new benches and trees are still needed.
It also was announced that Fanwood will take part in the Safe Place program to provide safe spaces for people to go to if they are experiencing any issues with bias or harassment or bullying. Participating businesses will be able to secure a sticker to place in their window that will designate the establishment as a place for people to go to escape mistreatment or threats.