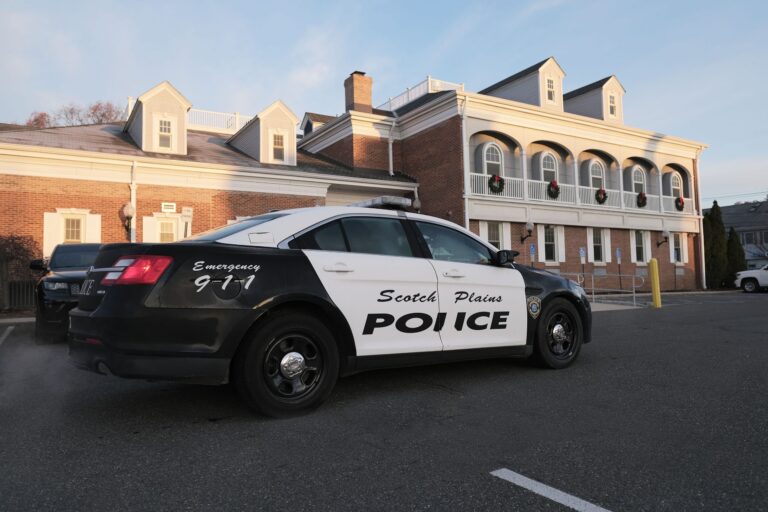 Police Chief Conley Looks Back on 25-Year Career
SCOTCH PLAINS — Back in the 1990s, Ted Conley said an uncle convinced him to consider a career in law enforcement — and that career winds down at the end of this month with his retirement from the township police department after 25 years of service, the last six-and a half years as police chief.
Speaking to Union County HAWK last week in his office amidst packing boxes, Chief Conley talked about how, after graduating from Montclair State University in 1992, he worked as a security officer at Union County College while he considered attending law school. He enjoyed his security work, he said, and then an uncle, who was a lawyer, told Mr. Conley that law enforcement might be a better fit for him. He took his uncle's advice, and "there was no looking back."
He joined the township police department in January 1998, was promoted to sergeant in September 2006, lieutenant in February 2012, and captain in September 2014, before succeeding Brian Mahoney as chief in mid-2016. Chief Conley has overseen a force of 50 officers along with eight special law-enforcement officers who are posted in the schools and three retired officers who assist during special events. There also are three civilians in the department, which has a $6.5-million budget.
"It's time to move on," Mr. Conley said when asked why he is leaving. "It's time to let in new blood to take over and run" the department. He will be succeeded next month by Captain Jeffrey Briel, a 25-year department veteran. Captain Al Sellinger will be promoted to the newly-created position of deputy chief.
Chief Conley told HAWK that his biggest accomplishment as chief was increasing his department's manpower to 50 from the 46 level it had been at for nearly 20 years. But even 50 officers, he said, is "still barebones minimum. The population keeps growing," and will continue to do so as more housing is built in the coming years. Mr. Conley said that at present, Scotch Plains has one police officer for every 500 residents, while other similar-size towns in Union County have a ratio of one officer per 300 residents.
He also touted his department receiving its accreditation, most recently in December, something that was begun under former chief Mahoney. Accreditation is done every three years and is a method of assisting law enforcement agencies to calculate and improve their overall performance. At the township council's meeting in December, Accreditation Program Director Harry Delgado said that 54 percent of law enforcement agencies in New Jersey have achieved accreditation status, but that only 19 percent — including Scotch Plains — have achieved it three times.
One of the biggest challenges for his department has been — and will likely continue to be — recruitment and retention. "We've been working on it," Mr. Conley said. He noted that his department participates in job fairs, while township events such as Scotch Plains Day and National Night Out provide the department the opportunity to educate "kids who want to know how to become a cop." He added that with the "media crushing us a little bit" in recent years in response to incidents of police brutality around the country, it has made it "harder to recruit." But, he added, "We're very lucky here; the residents and the politicians have our back." Retention of officers also can be a challenge, Chief Conley said. "Some see it as a job, not a career. Some stay for five years and then decide that it's not for them."
Technology has changed the department for the better in recent years, especially the patrol vehicles that are now crammed with equipment "that can cost more than the cars themselves," Mr. Conley said, describing them as "offices on wheels." He added that patrol cars also have on hand paper copies of necessary forms and protocols for use in case of any power outages or connectivity issues with police headquarters.