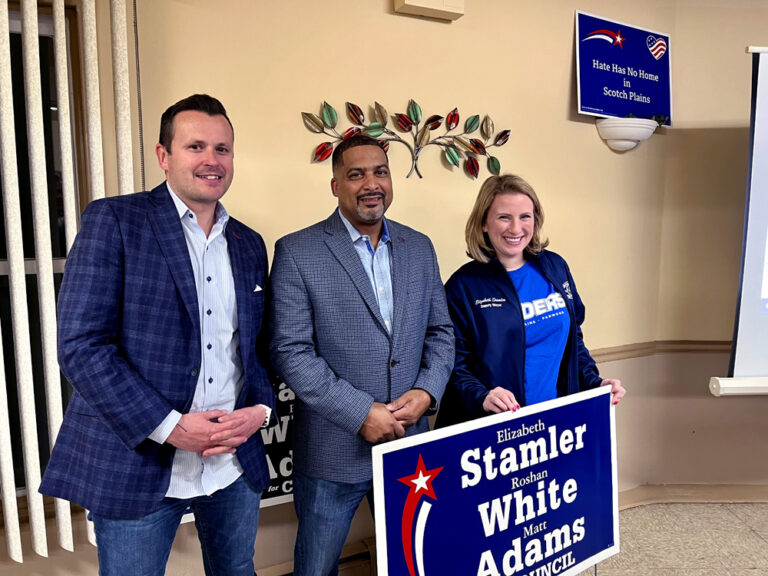 Democrats Retain Hold On Scotch Plains Council
SCOTCH PLAINS—Democrats retained their unanimous control of the township council in Tuesday's elections, with the three incumbents winning re-election to fresh four-year terms and ensuring the longest continuous stretch of the party's control on the governing body in township history.
Unofficial vote totals on Tuesday night showed Councilwoman Elizabeth Stamler winning 5,306 votes, her council colleague Roshan White gaining 5,138 votes and Matthew Adams, who was serving out the final year of an unexpired term, winning 5,220 votes. They defeated Republicans Keith Dematteo. who received 3,728 votes, Donald Stanzione. with 3,610 votes and Brian Johdos, who received 3,522 votes.
Some two dozen supporters and family members let out boisterous cheers, exchanged embraces and popped champagne bottles when the final tallies were announced at 8:30 p.m. at the Democrats' victory party at Jerseyland Community Center.
The campaign was dominated by talk about the pace and potential costs of downtown redevelopment, the way the council approved the sale of cannabis last year, the effects of increased housing on township infrastructure and upgrades to parks and ball fields.
Party chairman John Del Sordi told Union County HAWK that his team "worked extremely hard" during the campaign and that the "test is whether they're doing a good job. The voters spoke tonight and answered, Yes."
Ms. Stamler, who has served as deputy mayor for the past two years, told HAWK she is "looking forward to another wonderful term with our awesome team." She said, "We're excited to serve the residents for four more years."
Mr. White, who like Ms. Stamler will start his second term on January 1, thanked township voters "for giving me another opportunity to serve the community," and told HAWK that "we look forward to continue moving Scotch Plains in a positive direction and staying transparent and fair."
Mr. Adams said the voters "spoke in a resounding way that they crave progress and I am recommitted more than ever before to do everything that I can to give them exactly what they deserve." He told HAWK that "Scotch Plains is on the rise and our best days are yet to come."
This week's triple victories ensure Democratic control of the council for a fifth straight year, the longest consecutive stretch of council control by the Democrats since the present form of government was established in 1973.
Prior to that, few Democrats were elected to the governing body.
Republicans have not won a municipal election since 2016 when the party captured the mayoralty and a council seat. The party lost three council seats in 2018 and then in 2020 lost the mayor's race and a council election before losing a special election a year ago.
The three winners this week will rejoin their council colleagues—Mayor Joshua Losardo and Councilwoman Ellen Zimmerman—as the governing body in 2023 faces decisions on downtown redevelopment and settling on a development firm, the relocation of township emergency services headquarters, housing density issues and the finalizing of the municipal budget amidst a slowing national economy.