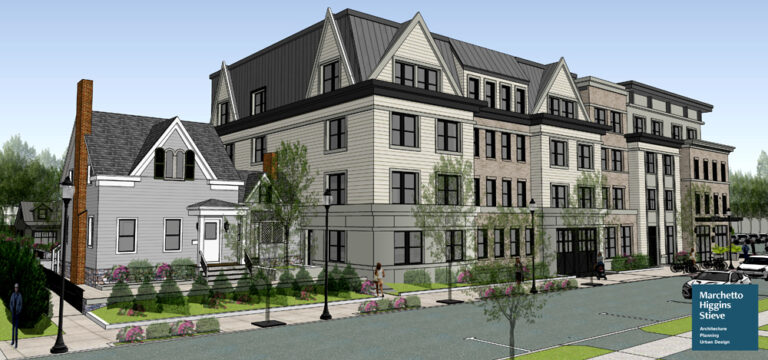 Citizen Group Files Suit Against Planning Board, Ward
WESTFIELD — A group of Westfield residents concerned with overdevelopment has filed suit against redeveloper James Ward and the town's planning board in New Jersey Superior Court in connection with The Sophia, a mixed-use residential complex slated for construction on the corner of Prospect and Ferris Streets. The suit, filed on October 28, alleges that Mr. Ward, along with his redevelopment entity, Prospect and Ferris Development, LLC, and the Westfield Planning Board, did knowingly violate both the town's zoning code and its Historic Preservation Ordinance in looking to advance the project.
The suit was filed on behalf of an ad hoc establishment calling itself Westfield Advocates For Responsible Redevelopment. In a recent letter to the editor, the group describes itself as an "independent, non-partisan, not-for-profit, volunteer organization that brings residents together to amplify their voices and contribute professional development expertise to advocate for responsibly programmed and appropriately scaled development projects in the community's public interest."
Though requests for more information from the group (including a list of its active members) were not returned at the time of publication, the organization's incorporation papers indicate that its founders include Frank Fusaro, current chair of the Westfield Board of Adjustment (BOA); Carla Bonacci, a former member of the BOA and a publicly vocal opponent of The Sophia who has, on frequent occasion, spoken out against both the size and scope of the project, and Allison Carey, a member of the Westfield Historic Preservation Commission.
The letter, which could not be printed in its entirety without the proper attributions (a long-standing policy of The Westfield Leader that requires at least one valid signature on every such submission), reads, in part, "the Sophia was simply pushed through the Town's public approvals process with no substantive changes to the project's scale. There was a Town Council vote of 5-3 and a Planning Board vote, which the Mayor and her appointee sit on, of 7-0, each following what in hindsight was a veneer of public input: where concerns and questions from residents were raised at public meetings to no avail."
The suit was filed on behalf of the organization by attorney Ronald S. Gasiorowski, of the Red Bank-based law firm Gasiorowski & Holobinko. This will not be Mr. Gasiorowski's first run-in with the Westfield Planning Board. In 2017, he and his client, local resident James Hughes, filed suit in opposition to a proposal that would have allowed the Stop & Shop on Elm Street to expand its overall parking-lot coverage.
In his most recent suit, Mr. Gasiorowski alleges that the construction of The Sophia (a 60-unit, mixed-use complex comprised of residential housing, an underground parking deck and 500 square feet of retail space) would constitute "spot zoning," a term defined in the lawsuit as "a municipal entity's use of the statutory zoning power to benefit particular private interests rather than to benefit the collective interests of the community as a whole."
Spot zoning has a legally murky past in the state of New Jersey. According to information provided by Cornell Law, "the practice can be very controversial and may be illegal."
The Cornell site goes on to note that, "some types of spot zoning actually can be necessary, such as granting waivers for existing businesses when new zoning laws come into force or when a business might be needed in a residential area."
By way of example, in 2017, a New Jersey Appellate Division judge held that the Borough of Closter did not engage in spot zoning when it increased the allowable square footage for commercial establishments in its business district. The mayor and council's adoption of a zoning ordinance in The Great Atlantic & Pacific Tea Co. Inc. v. Borough of Closter Planning Board. cleared the way for the renovation of store space that now houses a Whole Foods Supermarket.
However, the Cornell site notes, "spot zoning also can involve corruption where an individual receives special treatment that may harm surrounding areas or impede competition."
As per Westfield's Master Plan (first adopted in 2019), the town is geographically divided in 21 separate zoning districts with seven additional overlay districts. The three contiguous properties in question (designated on local tax maps as Block 2504, Lots 12, 13 and 14 and familiarly known as 201, 215 Prospect Street and 112 Ferris Street) are located in the RM-6 Zone, a categorization that allows for the construction of low-density, one-and two-family-style homes.
In his most recent suit, Mr. Gasiorowski alleges that "Ferris Prospect Development, LLC., plans to build high density housing of 60 residential units with 96 underground parking spaces and 500 square feet of commercial space" in direct defiance of the "long-established standards" of the designated zone of the surrounding neighborhood.
"The actions of the defendants in planning and enacting the challenged Resolution in totality of fact and context constitutes 'spot zoning' which is prohibited under the [state's Municipal Land Use Law]," the lawsuit claims.
Though neither the redeveloper nor the town's elected officials responded to requests for comment by the time of publication, the town did refute earlier claims of spot zoning in an FAQ released about the project in May.
"The properties' location relative to the Central Business District Zone, municipal parking, commercial uses, and multi-family housing were some characteristics which led to their inclusion within the Elm Street sub-area," the town said via its webpage. "When combined with the properties being underutilized and being under common ownership, a recommendation was made in the Unified Land Use and Circulation Plan that they be redeveloped in a way that would further the Town's community vision and goals and objectives."
According to the FAQ, the properties have not been spot zoned, "but rather identified as being part of the Elm Street sub-area of the downtown. The Unified Land Use and Circulation Element of the Master Plan made several recommendations for development within the Elm Street sub-area, including four-story mixed-use developments, active ground floor uses, and upper story residential uses which would add to the economic vitality of downtown."
Both the Prospect and Ferris Redevelopment Plan, and the proposed project itself, the town writes, are "consistent with these recommendations."
In addition to allegations of improper zoning, Mr. Gasiorowski writes, the project calls for the "relocation of the historically protected Mills-Ferris Pearsall House at 112 Ferris Place…to accommodate this offensive high density housing project."
According to the charter of the Westfield Historic Preservation Commission (WHPC), Mr. Gasiorowski says via the lawsuit, the WHPC is obligated to "preserve and protect both historic sites and structures."
Therefore, Mr. Gasiorowski says, when the planning board authorized the relocation of Mills-Ferris Pearsall House (which was officially designated as a local historic site in 2021) in order to allow Mr. Ward to utilize the majority of the half-acre lot on which the structure sits for part of The Sophia's construction, it "permitted what will be the irrecoverable destruction of the historic significance of the site."
"Moreover, moving the historic structure — a farmhouse — to be relocated to sit on top of a below-grade parking garage…does not in any way meaningfully preserve the historic significance of the structure," Mr. Gasiorowski alleges in the suit. "At best, [the move] merely preserves the sticks and bricks of an old farm house now with no surrounding land that is in sum, left completely out of context."