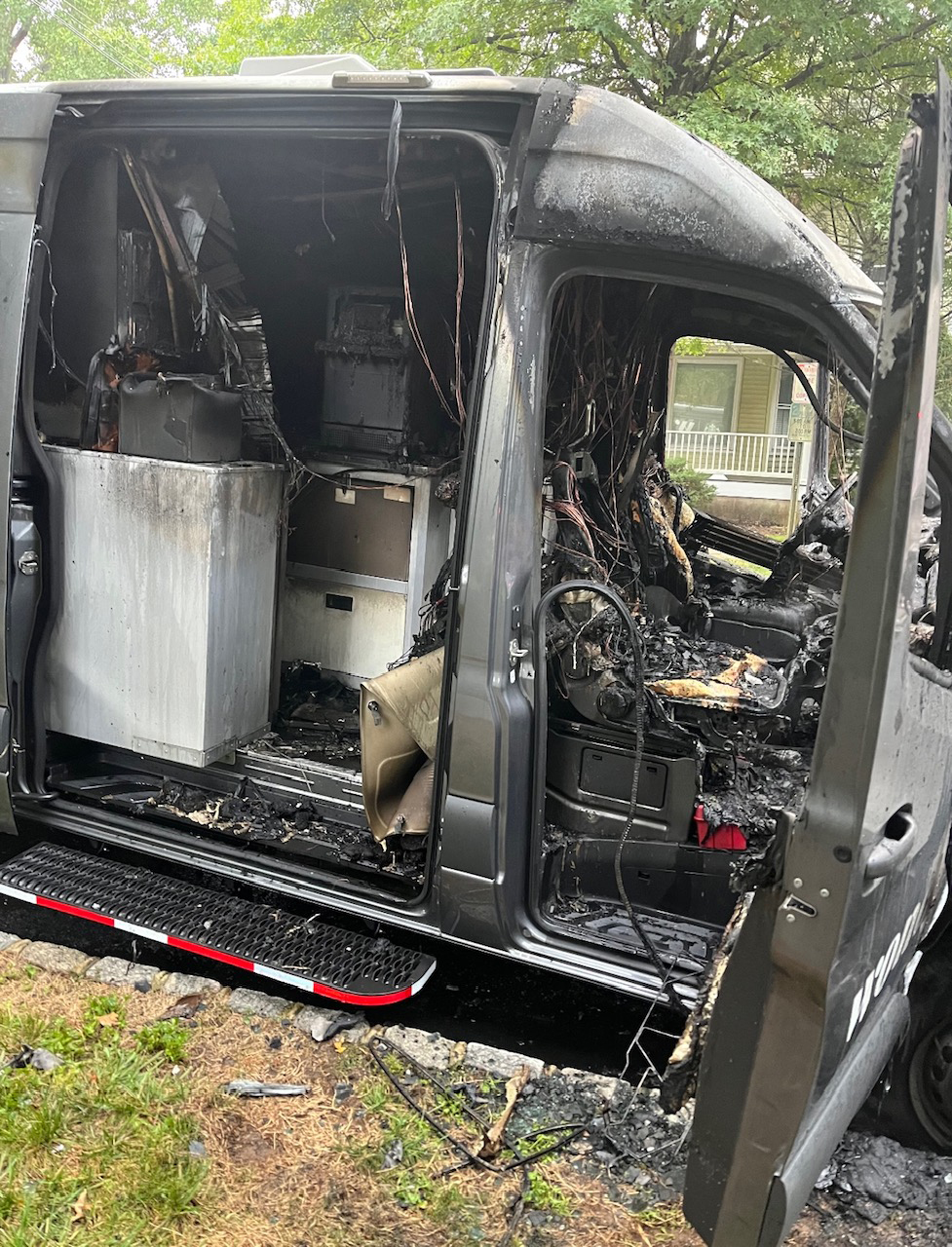 Wonder Truck Catches Fire On Heels of Licensing Decision
WESTFIELD — A fire that broke out in one of Wonder's delivery trucks on Monday morning was quickly extinguished without causing any injuries, Westfield Fire Chief Michael Duelks said.
"A search of the interior of the vehicle was conducted to confirm all the occupants were safely evacuated. A second vehicle parked on the roadway sustained heat damage to the rear trunk area," Chief Duelks said. "The origin of the fire started within the engine compartment, extending into the passenger compartment."
The fire, which occurred at approximately 7 a.m. near the intersection of Clark and Charles Streets, did spread to another vehicle but was extinguished within about 15 minutes.
The fire marks the second of its kind for the Cranford-based food-distribution company, which celebrated its two-year anniversary in August of this year. One of Wonder's other delivery trucks sustained damage during a fire that broke out in the company's main commissary parking lot in May of this year.
Despite a few setbacks, however, a spokesperson for Wonder said, "our customer response has been overwhelmingly positive, and it's even exceeded our highest expectations."
On September 12, the Westfield Board of Health announced that the trucks would not be subject to local inspection or licensing requirements as per a recent decision by the state.
According to information provided by Wonder, the New Jersey Department of Health will consider the trucks to be an extension of the commissary kitchen operations rather than a separate, independent operation.
"This is a key distinction as it means we do not meet the Department of Health's definition of a 'mobile retail food establishment' (like a traditional food truck might)," the company said via written communication to The Westfield Leader.
"For these reasons, as well as several others, our Wonder vehicles are not subject to the inspection and licensure in each jurisdiction where we deliver meals," the company wrote, adding, "Rather, our commissary is licensed and inspected by the local Health Department where the commissary is located, and our delivery vehicles are inspected as an extension of that commissary."
In other words, Westfield Board of Health member Steve Gorelick said last Monday, the trucks "are sort of like pizza delivery vehicles."
"When you think about it, we wouldn't inspect somebody's car before they went out on a delivery, so it makes sense that if the food isn't being prepared in the Wonder trucks, then we wouldn't need to inspect those, either," Mr. Gorelick said.
All of the company's food orders are prepared at a central commissary in Cranford before being transferred to trucks waiting at hubs in Cranford, West Orange and various locations throughout Essex, Bergen and Union counties. Wonder currently partners with a variety of restaurants and eateries, including Barrio Café, Di Fara Pizza, JBird, Pennycress and Taqueria de Dia.
"When customers order through the Wonder app, our Chefs-on-the-Road make final preparations when they arrive outside a customer's home — preparing and plating your meal and serving as soon as it's ready — allowing customers to experience the food the way it's meant to be enjoyed," the company explained.
The company has been growing steadily in both size and reputation since it first opened its doors during the height of the pandemic.
"As we add more mobile restaurants, we have plans to continue expanding our footprint," a spokesperson for the company said. "One way that we evaluate where to expand to next is based on our waitlists in a particular location. If an area has a large waitlist, that indicates to us that there is a lot of demand for our services in that area and would be a good place to expand to next."
By the end of the month, the company said, Wonder will be serving more than 75 towns and over 400,000 households.