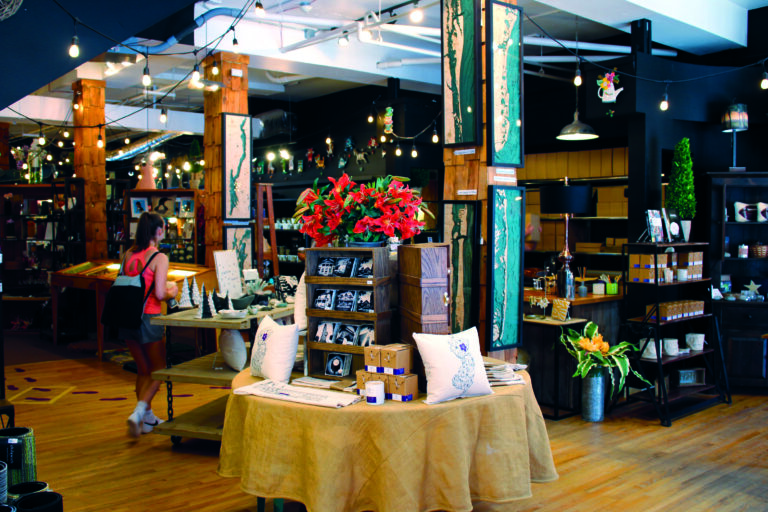 Home Store Launches New Gallery In Westfield
WESTFIELD — Where some would have seen an underutilized hallway and a few blank walls, Kelly Richardson, owner and proprietor of The Farmhouse Store in Westfield, saw only possibilities.
When Mr. Richardson, of Brooklyn, purchased the interior design home store in August of last year, it checked all of the right boxes: a solid reputation, a fun, eclectic feel, and, most importantly, room to grow.
"I'm not much of a creator," Mr. Richardson said, laughing, "but I am a builder. I probably looked at 300 different opportunities before I found the right fit. This store had a lot going for it. The previous owners did a lot of things right, and so I knew that we would be able to ground ourselves in what was already working while at the same time updating a few elements to bring the store more in line with the experience that our clients were asking for."
Earlier this month, one of those updates came to fruition when The Farmhouse Store team cut the ribbon on their new art gallery annex. The space, situated in a previously underutilized area of the store and curated by Hoboken's Al Barsky, is welcoming and intimate. The gallery features contemporary pieces by renowned artists from around the region, including one by Westfield native Gail Winbury.
"When you're talking about interior design, art is such a major part of that conversation," Mr. Richardson said. "I knew I wanted to find a way to incorporate some interesting pieces into the store, but, especially when it comes to contemporary exhibitions, there weren't too many local options to choose from. This area is changing, and when I realized that, I thought this was our chance to change along with it."
Mr. Richardson's search eventually led him to Hoboken, where he was able to connect with longtime curator Mr. Barsky, whose primary gallery is located in the downtown heart of the city.
Though Mr. Barsky could not be reached by the time of publication, his website offers some good insight into both his experience and his passion.
"I am committed to providing personal attention to both the novice and established collector, as well as art and design professionals," Mr. Barsky writes. "I create a comprehensive collecting experience for procuring fabulous works of art. Art is a personal reflection of an individual, and I specialize in meeting each client's specific needs in the selection and placement of art you will enjoy for many years to come."
The Westfield gallery's selections will likely rotate out on a fairly regular basis, Mr. Richardson said, in order to give not only his clients but any interested passersby the most inclusive experience possible. In addition to the main gallery on the first floor, a selection of Mr. Barsky's carefully chosen pieces also are on display throughout the rest of the store.
"What I love about this is that it gives everyone the chance to find their own starting point," Mr. Richardson said. "Some people might gravitate to a piece of furniture and want to build a room around that, while others might get so excited about a piece of artwork that that can be a jumping-off point. The whole idea here is to give people the freedom to find what speaks to them and the guidance to turn that spark into a living space that they really, truly love."
The Barsky Gallery of Hoboken at The Farmhouse Store in Westfield is free to visit and is open to the public during regular operating hours of the store. For more information, visit: www.thefarmhousestore.com. The store is located at 221 East Broad Street in downtown Westfield.