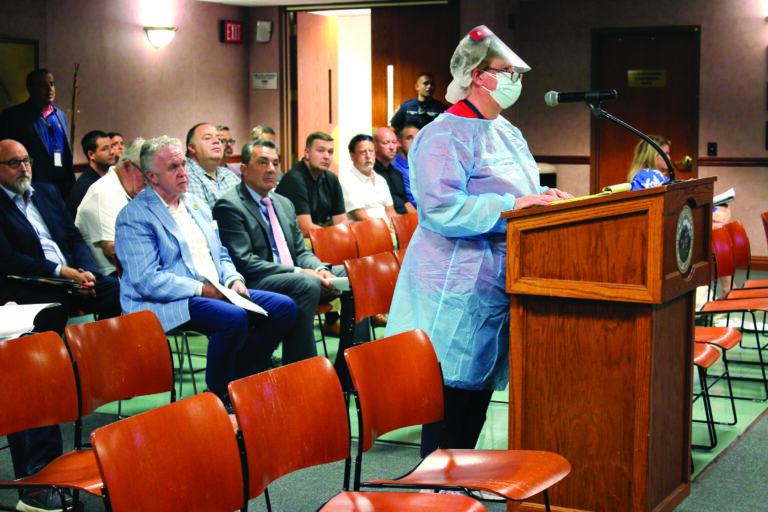 County Mental Health Nurses Demand New Contract
COUNTY — Clad head to toe in the protective gear that they have worn to work for the last two and a half years, nurses from the Cornerstone Behavioral Health Hospital in Berkeley Heights approached the Union County Board of County Commissioners on Thursday to lay out their arguments for a fair and appropriate contract.
The nurses, all county employees at the 44-bed inpatient facility (formerly known as Runnells Specialized Hospital) have been working without a contract since December of last year.
According to information supplied by the local health care providers' union (HPAE Local 5112), negotiations surrounding the contract have been ongoing for some time. But, the nurses said Thursday, lingering challenges posed by the Covid-19 pandemic have added a further layer of complications to the conversation.
"We are dressed this way tonight because we wanted everyone to see what it's like," Chapter President Wendi Esteves said, gesturing to her plastic gown, face shield, mask and gloves. "Nurses are built for endurance, but this has been like no other time in history."
Ms. Esteves explained that during the height of the pandemic, the nurses and other "essential" personnel were asked to take over a number of additional responsibilities around the hospital due to staffing shortages, illness and an overall lack of assistance from department heads and administrators.
"We were no longer just giving out medications and having one-on-one interactions with our patients; we were educating them in real time about the true dangers we were all facing together," she said, adding that nurses were often asked to prepare and serve food, act as interim counselors to upset patients, handle administrative duties like filing patient information and answering phones, clean bathrooms and even attempt to repair the facilities after a rainstorm damaged part of the ceiling.
"We had to do it. There was no choice. There was no one there to help us," Ms. Esteves continued. "While doing this, we were covered head to toe in [Personal Protective Equipment], and sometimes, there either wasn't enough to go around, or the equipment that we did have was substandard. It was very frightening."
According to information provided by the union, the county's most recent offer — that of a standard 2-percent raise — would not adequately compensate the staff for the undue burdens they have been asked to endure throughout the course of the pandemic.
"We cannot accept the county's offer after working through a two-plus-year pandemic with little to no protection equipment or any additional compensation for putting our lives as well as the lives of our families at risk," the HPAE Local 5112 wrote on its website. "In addition, we are holding out for language to protect our members in the event the County decides to sell the Hospital yet again [the county sold Runnells in 2014 to a private group but leased the Cornerstone program back shortly thereafter]. We are also seeking language that would freeze the healthcare premiums at its current rate as well as incentives to address the staffing challenges that sometimes occur during prime time holidays."
Even now, when threat levels posed by the pandemic are considerably lower than they were at the height of transmission, the nurses said Thursday that staff shortages are still causing major problems at the hospital. To date, Ms. Estevez said, the hospital has lost seven full-time registered nurses (RNs) but has only hired one full-time and four part-time replacements. When the nursing staff is that shorthanded, Ms. Estevez continued, it can lead to problematic deviations from the regular routine that can upset patients and lead to dangerous situations.
"Mentally ill patients are different than any other patient," Ms. Estevez said. "Those little things [like missing out on a planned activity or having to wait too long for lunch] can cause them to become very upset, angry, violent or agitated."
The disruptions in both staffing and routine also led to numerous safety concerns throughout the facility, said Valerie Hamer, a Cornerstone RN who also serves as the grievance chair for HPAE 5112.
"I have been a nurse for 18 years," Ms. Hamer said. "I had to work alone during Covid. I had 23 patients, and 15 of them were considered at risk for unpredictable behavior. Patients were threatening staff, chasing staff, refusing to follow directions. It was very dangerous, both for us and for our patients."
The commissioners, though quick to thank the nurses for their dedication, said Thursday that they could not discuss contract negotiations in a public forum.