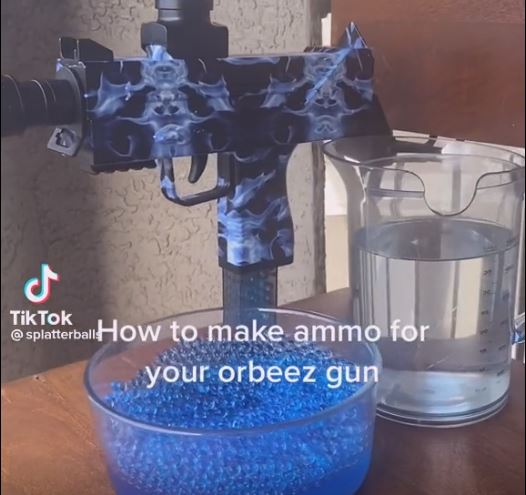 'Shootings' Probably Linked to TikTok Challenge, Police Say
Chief Battiloro went on to note that the most recent incident [in which two people reported being hit by gel balls at approximately 5 p.m. on July 2 in the area of Elm Street] probably involved a gel-ball "splat" gun (which are easily purchased online and are typically marketed as toys) rather than a BB gun, as was originally reported.
"Regardless, if it fires a projectile with sufficient force to injure a person, its possession in such circumstances is unlawful and can result in a third degree charge of Possession of a Weapon for an Unlawful Purpose and/or a fourth degree charge of Unlawful Possession of a Weapon," Chief Battiloro said. "We take these matters very seriously, and when perpetrators are located and positively identified, it results in their custodial arrest, the seizure of the weapon, and service of appropriate accompanying criminal charges, which, in addition to those noted above, may also include Assault."
Similar incidents have been documented in Florida, Georgia, Pennsylvania, California, Rhode Island, New York, Utah, Indiana and North Dakota, among other locations. In some cases, injuries have been reported.
Spin Master, the toy manufacturing company behind Orbeez, said in a public statement that, "children's product safety is paramount at Spin Master, and we are committed to providing children and their families with the highest quality toys, games and activities. Spin Master does not manufacture or sell gel guns. Orbeez are designed for educational, creative, and sensory play and are not intended to be used as projectiles or inserted in mechanisms."
Still, the company has not issued any formal condemnation of the challenge. In fact, an officially-licensed "Orbeez Challenge Activity Kit" that includes hundreds of the little balls can now be purchased through online retailers like Target.
These challenges are nothing new. Over the course of the last six years, videos have surfaced of people (usually kids and teens) eating Tide Pods, using Super Glue to permanently affix plastic vampire teeth into their mouths, snorting cinnamon up their noses, filing their own teeth with metal working tools or nail files, waxing their entire faces, intentionally overdosing on Benadryl and eating cereal out of each other's mouths, just to name a few. Another, more dangerous, video, dubbed the "blackout challenge," showed children and teens attempting to purposefully lose consciousness.
TikTok currently is facing multiple lawsuits from parents who say their children died of strangulation while attempting to replicate the behaviors exhibited online.
One suit filed against the company in June alleges that at least seven children, all under the age of 15, died last year while attempting the blackout challenge, which, according to the complaint, "encourages users to choke themselves with belts, purse strings, or any
thing similar until passing out."
In a general statement, TikTok spokespeople said only that the "disturbing" challenge "long predates our platform and has never been a TikTok trend." Still, the company has since removed any active links to the videos and has blocked users from searching for the blackout challenge — instead, users are redirected to a landing page that warns, "some online challenges can be dangerous, disturbing, or even fabricated."
In Westfield, Chief Battiloro said, police will be stepping up their efforts to keep residents (and their properties) safe.
"We have greatly increased our manpower in and around the central business district on Friday and Saturday nights to address this and other recent unlawful, unruly and disorderly behavior," he said. "When we are immediately notified of such incidents, and provided with sufficient vehicle descriptions, we are generally very successful in locating and positively identifying perpetrators.
Unfortunately, we were not successful in doing so on [July 2]. So that would be my best advice for people — try to provide us with a sufficient suspect vehicle description — one that includes a license plate, or at least a part thereof."