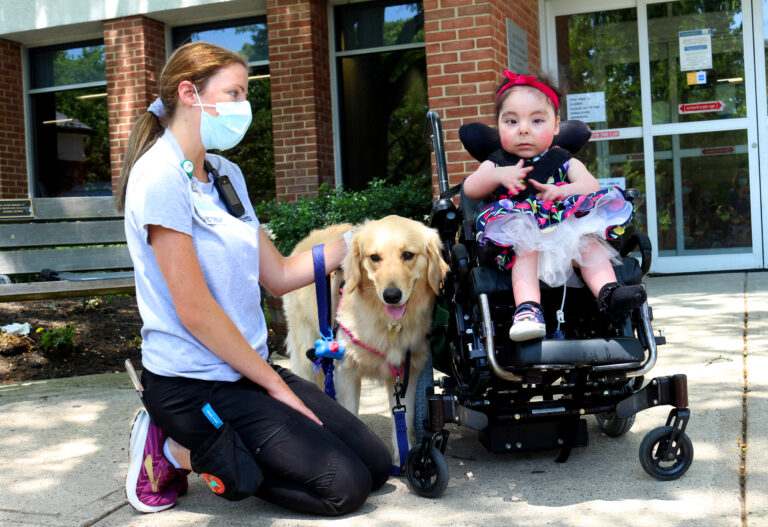 Children's Specialized Launches Major Campaign to Improve Lives
MOUNTAINSIDE — For kids like 2-year-old Kiki Schwartz, kids with complex medical needs that require constant supervision, the concept of home can be somewhat hard to grasp. Between long hospital stays, doctors' visits, therapy appointments and any number of other challenges, it can be hard to find time to be a kid. Thanks to the longstanding efforts of the dedicated staff at the Children's Specialized Hospital (CSH) in Mountainside, however, kids like Kiki — and their families — can breathe a little easier knowing that they will never have to face their battles alone.
"This is our second stay in long-term care. It has been a bit of a whirlwind, but we love Children's Specialized. Everyone on the team is so loving and warm and gracious and kind," said Kiki's mom, Sarah. "When she's sick, we know she's in the best possible hands, and when she's healthy, we know she's happy and safe. I can't tell you how much of a difference that makes."
It is a common sentiment, said Kate Cattani, director of marketing for Children's Specialized, and one that the staff takes extra care to preserve.
"For a lot of our long-term-care kids, this is home," Ms. Cattani said. "Aside from providing the best possible medical care that we can, our goal has always been to make sure that all of our kids feel safe, loved and supported."
The first iteration of the hospital was formed in Westfield in the 1890s to give children from Newark and other nearby urban centers the chance to escape the cloying heat (and increased rates of disease transmission) of the stifling summer months. Originally known as Children's Country Home, the facility later would be relocated to a spacious property in Mountainside, where doctors worked to treat children afflicted by some of the most frightening diseases of the day.
"My first recollection of the hospital was when I walked into a birthday party at my great-grandparents' house," said former board member and longtime volunteer Thomas Phelan, who has lived in the area for most of his life. "My cousin came in with her parents, and my great-grandmother took one look at her and said, 'that child has polio.' As it turns out, she was absolutely correct. She was here for about two months getting outpatient therapy. I don't really know what we would have done if the hospital hadn't been here."
Today, the hospital, located in Mountainside, is a full-service medical facility that provides specialized healthcare to more than 35,000 kids like Kiki every year. Children's Specialized provides access to everything from long-term, inpatient care to therapy programs, rehabilitation services, and customizable adaptive equipment designed to give kids the chance to live their best lives, regardless of where home might be.
"We predominately work with children who have very complex medical needs, which means that we're always on high alert," said recreational therapist Amy Schiano, who noted that the hospital is equipped to provide full-spectrum care to kids with a myriad of congenital birth disorders, developmental disabilities, traumatic brain injuries and illnesses. "That's why things like recreational therapy are so important. We don't want our kids to be scared, or upset, or worried about any of the things that might be going on around them. We want to make sure that everyone — our kids, our families and our staff — is as comfortable here as possible so we can be ready for whatever might happen in the course of a given day."
On Thursday, Ms. Schiano joined Kiki out in front of the hospital for a little fresh air, sunshine and the chance to interact with Gallop, one of the facility's newest unofficial mascots.
"Gallop is a two-year-old therapy dog who spends every day working in our long-term-care facility," Ms. Schiano said. "The difference she has made has been absolutely incredible. The kids really gravitate to her, and honestly, so do the staff. This has been a rough few years for everyone [parents were not allowed to visit the hospital during the pandemic, Ms. Cattani explained, which left doctors, nurses and therapists scrambling to make sure that all of their long-term residents had as much love and attention as possible], but having Gallop around makes things a lot easier on everyone."
The recent inclusion of therapy animals like Gallop is just one piece of a larger puzzle, Ms. Cattani said.
The hospital currently is in the middle of one of its most ambitious fund-raising campaigns yet. Dubbed "Transforming Lives 2.0," the $45-million campaign, conducted under the direction of the Children's Specialized Hospital Foundation, a non-profit entity that helps the hospital to secure grant funding and other types of support, aims to increase the facility's long-term-care capacity by 30 percent while also helping to upgrade facilities and fund research projects related to brain injuries, autism, chronic health conditions, cognition and mobility.
In addition, said Chief Development Officer Philip Salerno, the project will go towards the opening of four new outpatient programs (in Union, Bayonne, Eatontown and Toms River) designed to expand CSH's specialized services to children in different communities.
"So far, we have raised $35 million of our $45-million goal, and we could not be more grateful to everyone who has already stepped up to help," Mr. Salerno said, adding that construction efforts at the flagship Mountainside campus have already begun in earnest. "We're consolidating all of our long-term-care beds into one facility [Mountainside] so that we can make sure that we have the best, most highly-qualified staff to care for our patients. It's a big undertaking, but it's a hugely important one."
According to information provided by the hospital, "the Transforming Lives 2.0 campaign has raised just over $35 million to date, but the Foundation needs the NJ community to come together now, more than ever, so every child has access to the life-changing care they need."
Donations of any amount are needed and can be made at give2csh.org.
Those who want to know more about the campaign or who are interested in investing in the future of New Jersey's children with a major gift can contact Elena Herskowitz at eherskowitz@childrens-specialized.org.