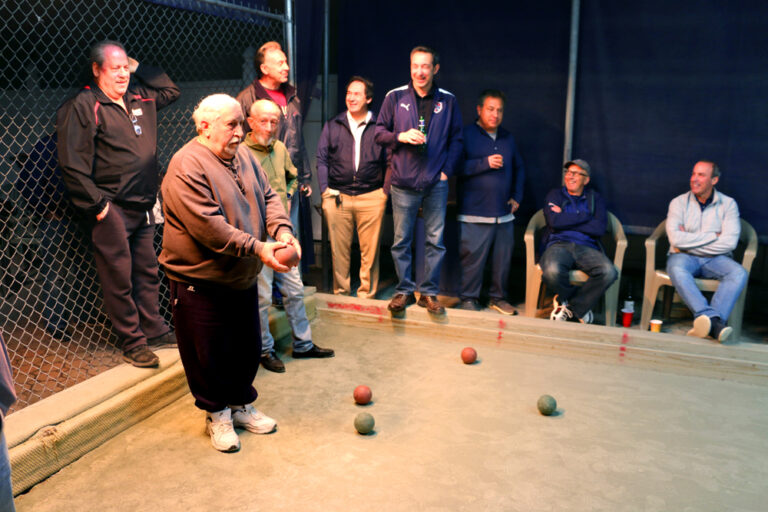 Boy's Night Out at Westfield's Italian American Club
WESTFIELD — It's a quiet Monday night, the first warm one of the year. The men filter in one or two at a time, stepping through the dining hall of the Italian American Club of Westfield and clapping their president, Rocky Buonomo, on the back as they pass. "Hey, Rock, how's the family? Everybody good? I'm getting a plate, anybody need…? Wine? Who needs wine? I'll get it, I'll get it, sit, sit."
It's a friendly, boisterous din. The men laugh, toasting Peronis and red wine as they shuffle for seats at the bocce court. Tonight is the playoffs, the end of an informal season that will likely bleed right into the next.
"Rocky, what's the payout?" one man calls from across the court, "What are we playing for, here?"
Rocky laughs. "Don't worry about it, I'll tell you when I win," he calls back. "We don't really play for stakes," he said, "Every team throws a couple of bucks in and the winners get to take home the pot. It's more about bragging rights than anything else."
The club, located on Central Avenue, was established in 1932 by a group of Italian immigrants looking for a taste of home. Since then, Mr. Buonomo said, the organization has done its best to carry on the old traditions.
"For the longest time, this was really just a bar. It was a place where the guys would come to hangout, relax, play some cards, but we were pretty closed off for a while there," said Mr. Buonomo, who owns Buona Pizza on South Avenue East. "Then, about 25, maybe 30 years ago, I became the president for the first time and we decided it was time to start getting more involved in the community."
Since then, Mr. Buonomo said, the organization has hosted fundraisers for the victims of natural disasters, provided scholarships for local students and helped raise money for families struggling with childhood illness. The organization also rents its prized bocce court out for free to athletes hoping to compete in the Special Olympics.
"It's important," Mr. Buonomo said, "If you have children, and a lot of us do, you want to show them what it means to be a part of something. You have to do what you can, because even if it's something small, there's always something you can do to help somebody else."
A few years ago, Mr. Buonomo said, the club helped to raise money to restore a centuries-old chapel in his family's hometown of Sassano, Italy. The parish was so grateful, he said, that they named the little church in his honor once the renovations were complete.
"Nah, I'm kidding," he said, laughing, "They didn't do that. But could you imagine if they did? I could be the patron saint of pizza."
Today, the club has between 150 and 170 members, all of whom are men and most of whom seem to be named Joe.
"This has always been an all-male group," Mr. Buonomo said, "We've never really had any pressure to change it. It's not that we're opposed to it, but trust me, our wives don't want to hang out here all day. I know things like this aren't around that much anymore, but we think it's important to keep it going."
Though membership is required to enter the club to take part in its festivities, the organization has always had its own version of an open-door policy.
"A while ago, a member came in on the day of his wedding anniversary. He had a coffee in front of him and his wife popped in through the front door. He sees her coming in and he gets all annoyed," Mr. Buonomo said. "He goes 'whaddaya doing here?' and she says 'well, you didn't want to spend our anniversary at home, so I'm coming to celebrate it here.' He got all ticked off, I think he was embarrassed, and he went off and left. So I went behind the bar and grabbed a bottle of champagne. We had a toast with her while her husband was off cooling his head. Everybody had a good laugh with him about it later. That's the thing about this, it's all family."
Westfield Councilman Mark LoGrippo, who joined the group about seven years ago, said the club is one of the community's best-kept secrets.