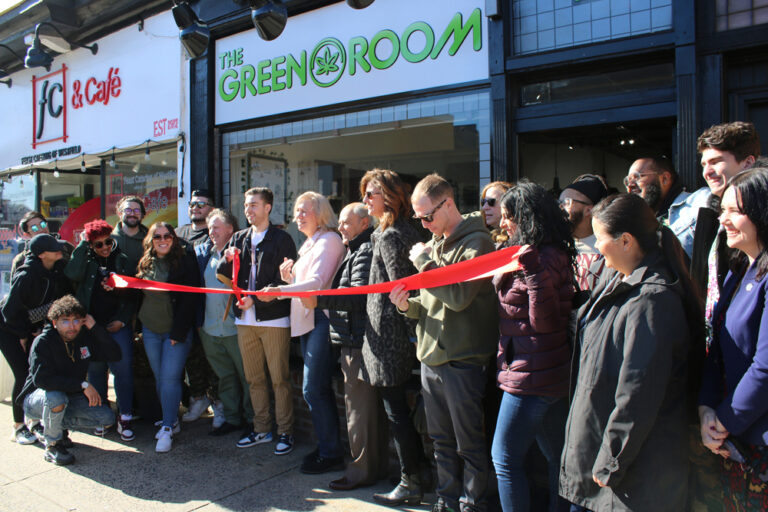 Westfield Welcomes CBD Dispensary The Green Room
WESTFIELD — Westfield has a new way to go green, but not in the way you might think.
Last week, the Westfield Green Room, a, new hemp-based CBD dispensary located on Elm Street, held its grand opening in front of local officials, members of the press and plenty of curious passersby.
"This shop started out as a little dream that has turned into to something much bigger," owner Darek Wajda said.
Friday's grand opening marked the seventh such occasion for The Green Room, which also has locations in Red Bank, Montclair, Hoboken and Jersey City.
The Green Room (not to be confused with the Westfield florist Green Room) offers a "fully individualized CBD experience," Mr. Wajda said, noting that the shop will be offering a wide variety of products designed to meet the individual needs of its customers.
CBD, or cannabidiol, is a slightly lesser-known cannabis derivative that often gets mistaken for its more infamous cousin, tetrahydrocannabinol, or THC. According to information provided by U.S. Department of Health and Human Services, THC is the substance that causes the "high" associated with marijuana use. Some cannabis plants contain very little THC. Under U.S. law, these plants are considered "industrial hemp" rather than marijuana, which allows vendors like The Green Room to legally operate in areas like Westfield where recreational marijuana is still not allowed.
CBD, meanwhile, can provide its users with benefits ranging from pain management to stress and anxiety relief without the psychotropic side effects. In the right doses, it can also mitigate symptoms from epilepsy, opioid withdrawal, PTSD, sleeplessness, nausea and glaucoma.
"Coming to The Green Room is like meeting with a sommelier," Mr. Wajda said, "we make most of what we sell here in house and can personally vouch for all of our products. We understand that people have different needs, and the great thing about this store is that we can help you find what you're looking for in a very safe and controlled environment."
CBD is a versatile substance that can be smoked in its natural "flower" form or infused into vape pens, oils, lotions, tinctures or edible items like chocolates or gummies.
Thanks to a partnership with independent promoter and self-described "taste guru" Herbert Christopher Tobias, better known by his web handle TobiasEats, patrons of The Green Room can even find CBD in several smoky varieties of hot sauce.
"This is an industry on the rise, and we are so excited to be bringing this kind of individualized service to Westfield," Mr. Tobias said.
In addition to CBD, The Green Room will also carry a number of other psychoactive varietals including CBG, CBN, Delta 8 THC and Delta 10 THC, each of which contains less than 0.3% THC (the highest federally compliant level of the substance).
"The great thing about having these different cannabinoids to choose from is that you can tailor your experience any way you want," Mr. Wajda said, "and if you're not exactly sure what you want, that's absolutely fine. We're here to answer any questions you might have."
Though CBD and Delta varietals are still relatively new to the market, they have already garnered something of a cult following. Within the past several years, the two have started to pop up with increasing regularity at retail stores, vape shops, online vendors and even local gas stations. Despite the ready availability of these products, Mr. Wadja said consumers should exercise caution when choosing where they decide to purchase them.
"The major benefit to stores like The Green Room is that we can speak to every one of the products that we sell with the right knowledge and experience to make sure that our customers find exactly what they are looking for," he said, "If you have questions about CBD, if you want to learn more about any kind of hemp-based products, that's what we're here for. We're not going to sell anything here that we can't personally vouch for."
The CBD products are available for purchase to anyone over the 18. The age limit to buy Delta products is 21.
The Green Room is located at 29 Elm Street, Westfield.
For more information, visit: https://www.thegreenroomnj.com/