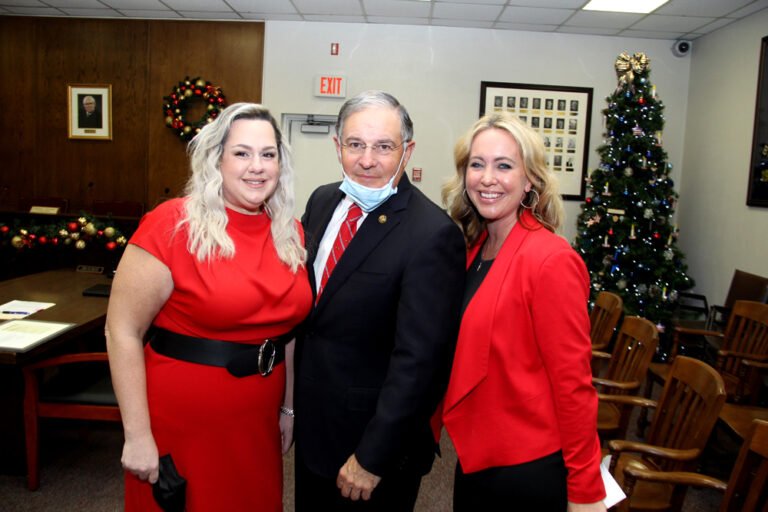 Republicans Loffredo and Salmon Join Garwood Borough Council
GARWOOD — Two Republicans joined the borough council last week, cutting the Democrats' former unanimous control of the governing body to a 4-to-2 margin.
At the council's reorganization meeting on January 6, Heather Loffredo and Kimberly Salmon were sworn into three-year terms by State Senator-Elect Jon Bramnick. The two women were elected in November, becoming the first Republicans to win a municipal election in Garwood since 2017.
Their voices were heard immediately when the council considered nominations for council president for 2022. Councilwoman Jen Blumenstock was nominated, as was Councilman Russell Graham. Mr. Graham, however, yielded to Ms. Blumenstock, who he called "a tireless worker and a tireless proponent of everything Garwood." He said her contributions to the council were "worth their weight in gold," adding that, "I can't think of a better person" for the position.
On the two roll calls that followed, Ms. Loffredo and Ms. Salmon dissented from the majority, voting against Ms. Blumenstock's nomination for council president on the first roll call and voting in favor of Mr. Graham's nomination on the second roll call.
At the end of the meeting, Mayor Sara Todisco spoke of some of her priorities for the new year, and emphasized that public safety "should always be a top priority" for any municipal government. She commended last year's council for its approval of various pedestrian-safety improvements and said that installation of rumble stripes and new flashing LED lights on certain streets were planned for this year to slow traffic and boost pedestrian safety.
Addressing the municipal budget, the mayor said she expects "a strong budget" that properly funds municipal services, which she pointed out earlier had been provided without interruption during the two years of the pandemic. As for the capital budget, Mayor Todisco said public safety "should be number one" in guiding decisions on those expenditures. She said a study will be conducted on what to do with the public works building on South Avenue — either build a new facility or renovate the existing structure.
She called the local business community an "integral part" of the borough and pointed to the establishment last year of the small business advisory committee. Mayor Todisco also said she hoped that Restaurant Week will return this year. The mayor ended her remarks by thanking borough volunteers, saying that "our community would not be the same" without their efforts.