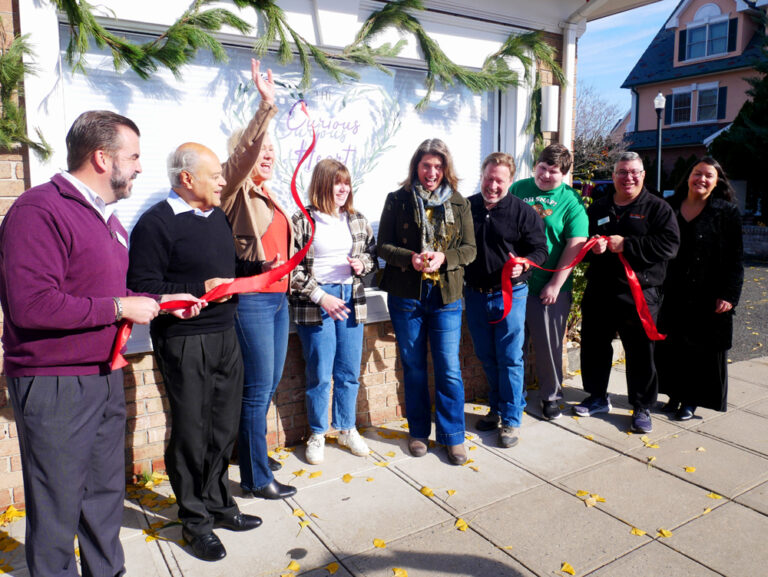 Finding the Right Balance: Spiritual Center Opens
WESTFIELD — For Mary Kate Santulli, owner of The Curious Heart: Apothecary & Spiritual Center, the quest for peace has always been more about the journey than the destination.
"I was at a point in my life when I just wasn't happy and I didn't know why. I had everything — I have a fabulous husband, wonderful kids, we live in a great town…but even with all of that, I just wasn't okay," Mrs. Santulli said, speaking candidly from her recently-opened storefront at 509 Central Avenue. "I realized that I was blaming a lot of other people for the way I felt when I should have been taking a much harder look at myself."
After several failed attempts to curb her anxiety through medication and prescriptions, Mrs. Santulli said a family friend and accomplished Reiki specialist offered to perform a reading.
"I was keeping things very much to myself at that point, and I didn't think anyone else knew how badly I was suffering, so I was surprised that she even made the offer," Mrs. Santulli said. "I agreed to the session without really knowing what I was in for, but nothing else was working and I needed a way out."
Reiki, as Mrs. Santulli was about to learn, is defined as a healing technique based on the principle that the therapist can channel energy into the patient by means of touch, to activate the natural healing processes of the patient's body and restore physical and emotional well-being.
"I know this sounds a little out there, but that session changed my life," Mrs. Santulli said, grinning broadly. "I realized that I wasn't happy because I wasn't on the right path. I wasn't doing what I needed to do, and it was taking a major toll on me."
Thus began what Mrs. Santulli calls "the deep dive," a two-year period of educational self-discovery that would ultimately lead to the grand opening of her own shop.
"It has been a whirlwind," Mrs. Santulli, now a certified Reiki therapist, said during The Curious Heart's ribbon-cutting ceremony, held on December 1.
The Curious Heart: Apothecary and Spiritual Center will offer Reiki sessions, workshops and a custom-designed selection of Reiki-infused products made from essential oils.
Visitors to the shop are invited to choose their own essential oils from a menu-type description board that provides information as to what benefits each scent may be able to provide. The oils are then custom-blended into Mrs. Santulli's own collection of creams, body butters, inhalers and roller balls to create individualized products based on personal need. Shoppers also can browse through a selection of pre-made body products, stones, crystals, books and gifts.
"I started following the bread crumbs," Mrs. Santulli said. "Reiki led to essential oils, which led to my certification as a clinical aroma therapist, which led to a pop-up shop, which, eventually, led to The Curious Heart. It's all connected."
The most important connection of all, however, came in the form of Lori Talbot, a Cranford native and former educator who was able to reach out to Mrs. Santulli via social media.
"It was total kismet that we ended up working together," Mrs. Talbot said. "We met up for what was supposed to be a quick conversation and ended up talking for four hours about our ideas and how well they blended together. It all just clicked."
Mrs. Talbot's side of the business, an empowerment workshop series called Happy Girls Sparkle, teaches young women to believe in themselves and find their own inner superheroes.
"I taught in Cranford for 33 years, and a lot has changed in that time. I started to notice how much more stressed and anxious my students were becoming, and I wanted to find a way to help," said Mrs. Talbot, who retired from teaching in April 2021.
Mrs. Talbot's workshops, which operate out of The Curious Heart, encourage young women to find and learn to appreciate their own inner strengths.
"These workshops are all about positivity and confidence. Young women are under a ton of pressure at home, at school, in their social groups and even online, and it's so important to find a way to help them not only to acknowledge those feelings in a non-judgmental setting, but also to identify constructive ways to address them," Mrs. Talbot said.
Workshops with Happy Girls Sparkle range from one-day programs to week-long camps and may include anything from guest speakers and art projects for the program's younger participants to guided meditations and wine tastings for the adults.
"There is no age limit on learning to love yourself," Mrs. Talbot said. "Traditionally, women are much better at taking care of other people than we are at taking care of ourselves. My goal for these workshops isn't to change that, necessarily, but to help people find a way to balance it all out."
For more information about The Curious Heart: Apothecary and Spiritual Center, visit: littlefloweressentialoilblends.com/the-curious-heart.
For more information or to learn about upcoming workshop opportunities with Happy Girls Sparkle, visit: happygirlssparkle.com.