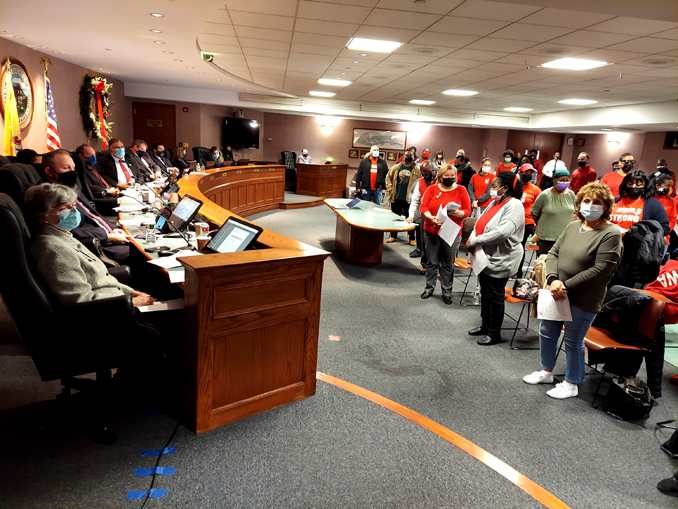 Commisioners Approve Top-Level Pay Increases
COUNTY — The first in-person meeting of the Union County Board of County Commissioners since the start of the pandemic took a contentious turn when the board voted to approve pay raises for the county's top administrators in spite of public outcry. Dozens of local residents and lower-level county employees turned out to denounce the measure, citing the county's ongoing financial struggles and its unbalanced division of equity.
The resolution, which includes an 18.8-percent raise for County Manager Edward Oatman, an 11.1-percent raise for Human Services Director Debbie-Ann Anderson, a 9.1-percent raise for Administrative Services Director Laura Scutari and an 8.9-percent raise for Public Safety Director Andrew Moran, among others, passed with a vote of 7 to 0. Commissioner Angela Garretson abstained.
Many of those in opposition to the increases are members of the Communication Workers of America (CWA) Local 1080, a union comprised of social workers, health-care professionals, educators, clerks, paralegals and communications specialists. Approximately 45 CWA members, predominantly from the Union County Department of Social Services, turned out for last week's meeting in a sea of red shirts as a show of solidarity.
"You started this meeting by thanking us as the staff because you recognize us as the wheels to the vehicle that got us through [the pandemic]," Administrative Clerk for Union County Social Services Jasmine Levers said, speaking during the public-comment portion of the December 2 meeting, "but when we get up here to talk about our salaries, you jump at us. That's insulting. We understand that you guys are doing a great job, but so are we.
We are all in this together, but it doesn't feel that way. Although you guys are taking the lead, none of this is possible without us."
The CWA contract, which affects approximately 350 Union County employees, ended on June 30, 2020. Since then, CWA Local 1080 President Colleen Pierce said, "The county has failed to make a reasonable wage offer that reflects the hard work and dedication of our members and their staff."
County Commissioner Chairman Alexander Mirabella attempted to turn the conversation away from what he called "public negotiations," stating, "We don't collectively bargain in public, so you're not going to get any satisfaction from this board as far as negotiating your contract."
Chairman Mirabella instead pointed to recent accomplishments of county administrators such as closing the jail, leading the county through the pandemic and maintaining a zero-percent tax increase as points of justification for the pay hikes.
"We're not responsible for negotiations," Chairman Mirabella said, "nor are we going to start the practice of negotiating in public. I feel sad that it has gone on this long. I know that the county manager and his negotiating team are working to come to some resolution with CWA to find a contract that is agreeable to both parties."
Still, said Imani Humphrey, who has worked as a data entry operator for the Department of Human Services for six years, the board's decision to reward the efforts of some without acknowledging the struggles of others felt "unfair and unbalanced."
"It's an unsettling feeling to know that some employees of social services are also clients, all because employees are not being paid enough to meet the cost of living for the county that the job requires us to live in," said Ms. Humphrey.
According to public record, the starting salary for a division clerk in Union County is $31,347, with an eventual cap of $56,316.
"The salary needed in order to obtain a modest yet adequate standard of living in Union County is $40,912," Ms. Humphrey said, quoting The Economic Policy Institute, a nonprofit think tank that researches the impact of economic trends and policies on working people in the United States. "The cost for one adult and one child is $65,000, and that's just for necessities."
Several local residents, including Bruce Paterson of Garwood, also spoke out against the increases.
"There is a reason that there is a rage against the machine," Mr. Paterson said, noting that the county manager's raise of $35,000 looked that much grander when juxtaposed against lower-level starting salaries. "We are looking at a two-tiered-level society here — the ruling class and the rest of us rabble. This whole thing raises some alarm as to whether the county is working for us, the residents, or if they're just self-serving."