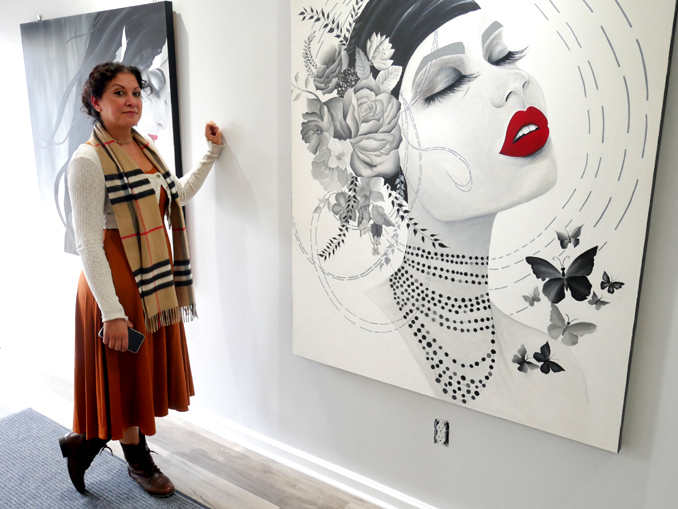 The Gallery Opens Its Doors
WESTFIELD — For Lisa Sommers, owner of the new Elm Street Gallery (The Gallery), art and tranquility go hand in hand.
"I just find it very fulfilling to make beautiful spaces," Ms. Sommers told Union County HAWK during a visit to The Gallery last week. "When I first looked at this store, it was painted bright purple and it was full of clutter. My husband thought I was a little nuts, but I saw a lot of potential here."
Ms. Sommers' new shop, now a light and welcoming space located at 21 Elm Street, features a collection of the artist's own mixed-media designs as well as a selection of housewares, jewelry and decorative accents.
"I've wanted my own gallery for as long as I can remember," said Ms. Sommers, who creates all of her pieces in her home studio in Clark. "This is everything to me. I just love it."
The Gallery, which held its official grand opening last Friday, showcases Ms. Sommers' oil paintings, acrylic pours and resin art.
"I think some art galleries can be a little stuffy," she said. "I decided to add the retail component so that people would have a bit more to browse through instead of just staring at white, sterile walls. Everyone has a different idea for how they want their homes to look, and sometimes it just feels so nice to walk into a shop and find the perfect thing."
In addition to creating the art that lines the walls, Ms. Sommers said that she and her husband, Dave, also constructed all of the shop's shelving and displays by hand.
Going forward, Ms. Sommers said, The Gallery will donate 20 percent of the proceeds from her art sales to St. Jude Children's Research Hospital in honor of her young niece who passed away from cancer several years ago.
"I've always wanted to find a way to use my art to contribute to something bigger than myself," she said.
As time goes by, Ms. Sommers said she plans to dedicate a wall or two to other local artists who might want a creative way to showcase their own works.
"The Gallery is a great addition to the downtown area," said Bob Conway at a recent Downtown Westfield Corporation Board of Directors meeting. He noted that more new businesses, including an ice cream parlor, a bubble tea shop, a pharmacy and a specialty pet treat store, also are in the process of opening up for business in the town's special improvement district.
"Last year was very tough for our downtown area," Mr. Conway said at the meeting. "It's great to see so many new businesses choosing Westfield. We really want to see as many of these vacancies filled as possible, and this is a very good sign that things are moving back in a positive direction."
For more information about the Elm Street Gallery, visit: instagram.com/elmstreetgallery.