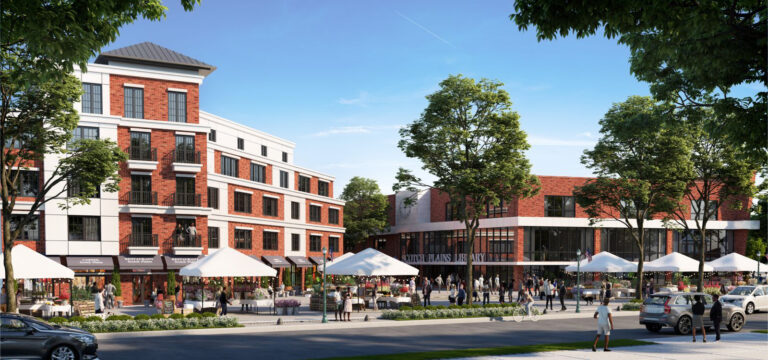 Council Adopts Downtown Redevelopment Plan
SCOTCH PLAINS — Fifty-five months after the downtown redevelopment committee first started its work, the township council on Monday unanimously adopted the redevelopment plan crafted by that committee that will encompass developing public properties in the central business district.
Thomas Strowe, in his final day as township redevelopment coordinator — his promotion to director of redevelopment was announced during the council's meeting — called the plan "historic" and described the Monday night vote as "a big moment." He said that the township had made an effort in recent years to boost communications with and access to the local business community via ribbon-cuttings, increased consultations and other events.
But "we have more to do," Mr. Stowe said. The redevelopment plan "takes us to the next step," he said, calling it "a solid, pro-growth framework" for downtown revitalization. He cautioned that "a lot of hard work" lies ahead in what he said will be "a multi-year process." The next step in the coming weeks will be finalizing a process for selecting developers.
The redevelopment plan calls for a maximum of 350 residential units, with certain set-asides for affordable units and for veterans, to be located in new, five-story developments where the municipal building and adjacent parking lot are now situated as well as where the municipal parking lot in front of the library now exists. A minimum of 15,000 square feet of first-floor commercial space will be included in those new buildings.
A new, 27,000-square-foot, two-story library will be built where the current library sits, and 16,000 square feet for municipal government offices will be located on the third floor of that same building. The plans also call for development of two sizable public plazas — an 8,000-square-foot plaza on Park Avenue on the town hall property and a 5,500-square-foot plaza between the library and a new, mixed-use building on Bartle Avenue. Additionally, the plan calls for first-responder headquarters to be relocated out of the downtown, most likely to property on Plainfield Avenue across from the public works facility.
While residents had expressed concerns — some of them very vocal — at numerous council, redevelopment committee and planning board meetings over the past few years about particular aspects of the plan as it was being formulated, Monday's public hearing saw just one resident speak. Mountain Avenue resident Michael Toffolo asked why the public parking lot behind the CVS is included in the plan given that it is located in a flood zone, and he also inquired about how the overall redevelopment will be staged and whether new first-responder headquarters will first need to be built on Plainfield Avenue before downtown redevelopment gets underway.
Township planner Michael Mistretta defended keeping the CVS property in the plan, saying doing so "keeps it available for redevelopment" as part of a larger redevelopment. Excluding it, he said, would ensure that "nothing ever happens" there and the lot "sits there dormant." He also pointed out that any development undertaken at that site would need to comply with stringent state environmental standards regarding flooding.
Mr. Strowe noted that there is already some development at the property, but said that if constructing a new building behind the CVS was found to be impractical, then the township would end up building fewer housing units in the downtown. He said the CVS lot is "not a linchpin that's going to define the entire downtown." Mr. Strowe said staging will be discussed with developers and that actual building could begin with a new library before the first-responder issues are worked out. "We don't have to wait to put a shovel in the ground," he said.