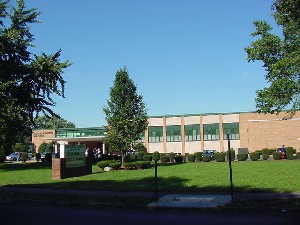 Park Middle to Be Renamed For Tuskegee Vet
SCOTCH PLAINS — The Scotch Plains-Fanwood Board of Education (BOE) voted at its September 29 meeting to rename Park Middle School after a longtime Scotch Plains resident and Tuskegee Airman. The newly-designated Malcolm E. Nettingham Middle School will be officially dedicated on Thursday, November 11.
A 1936 graduate of Scotch Plains-Fanwood High School (SPFHS), Mr. Nettingham "received the Congressional Medal of Honor in 2007 for his military valor," according to a September 30 letter from Superintendent Joan Mast, Ed.D. Mr. Nettingham passed away in September 2020 at 101 years old.
"It's an honor and humbling to know that the town is honoring my father," said Mr. Nettingham's son, Malcolm, who was joined at the meeting by his sister, Deborah. Mr. Nettingham said his father was a proud resident of Scotch Plains for many years, who volunteered for many civic organizations including parade committees, the Jerseyland Park Committee and urban-renewal programs, and who voted in every single election.
The senior Malcolm Nettingham was "an original Tuskegee Airman," his son explained, as his father was one of the first five Black air corpsmen to be integrated into a White unit. His father told him that he and the other Black air corpsmen would study in their off hours and eventually rose to the top of their class. "They had to study real hard to prove themselves; that they were just as intelligent, just as courageous," his son said.
"I am just speechless," said Deborah Nettingham of the way the board has chosen to honor her father's historic contributions. Ms. Nettingham also remarked that her father attended SPFHS when it was located in the building that currently is Park Middle School, and that many other family members such as herself, her brother, uncles and son all attended school there. Ms. Nettingham thanked board member Tonya Williams, who chairs the board's Wellness and Equity Committee, for proposing the idea.
Jocelyn Dumaresq, Ed.D., principal of Park Middle School, said the school is planning activities to honor Mr. Nettingham and celebrate the renaming. There will be educational opportunities for students to learn about the life, impact and legacy of the school's new namesake, as well as a school logo and mascot design contest for students, taking inspiration from Mr. Nettingham's life and military service. The winner will be announced at the November 11 ceremony, which is fitting, said Dr. Dumaresq, as it also is Veterans Day.
"It truly is a rare and wonderful opportunity that we get to honor not only a national hero, but a local one," she said.
During the public-comment period, many residents also expressed their support for the new name.
In other board news, the Strategic Planning Committee has begun its discussions, with more than 130 parents, students, community members and staff participating, in the first of three planning sessions. The next planning session will be held on Saturday, October 16, at SPFHS. Those wishing to participate should contact Dr. Mast's office.
There will be a virtual BOE Candidates Night at 7:30 p.m. on Tuesday, October 12, sponsored by the Scotch Plains-Fanwood PTA Council and moderated by the League of Women Voters. Six candidates are running for three Scotch Plains seats on the school board. There are no open seats for Fanwood this year.