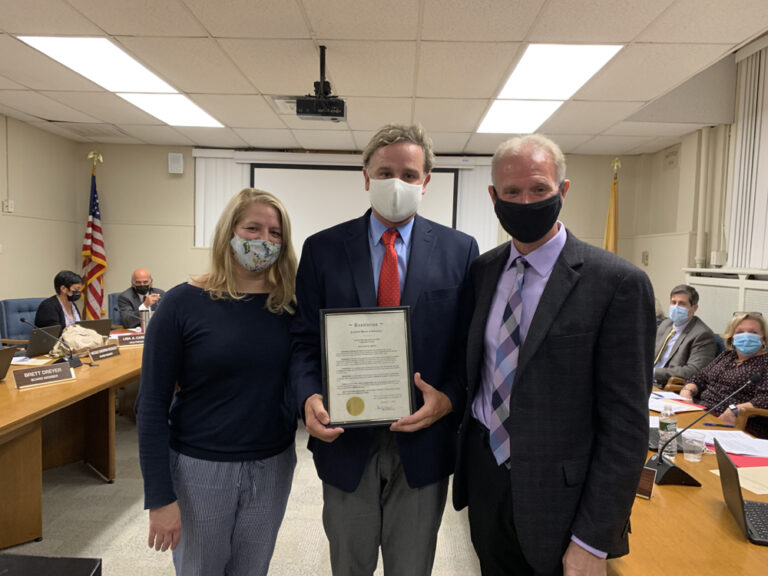 Cranford Honors William Hulse, Approves Attorney Fees
CRANFORD — At its meeting on Monday, the Cranford Board of Education (BOE) honored one of its own with a unanimous resolution. Board member William Hulse earned the title of Certified Board Leader (CBL) through the New Jersey School Boards Association's (NJSBA) Board Member Academy. "The CBL is the highest level of the NJSBA Board Member Academy" and requires the member to earn 60 credits from the academy, according to the resolution read by Board Vice President Lisa Carbone.
Fellow board members all commended Mr. Hulse on his dedication to continuing his education as a board of education member, his ability to discuss issues, and even his willingness to change his mind once gathering more facts. Ms. Carbone called him "one of the most passionate and engaged board members" she has ever met. Nicole Sherrin-Kessler described Mr. Hulse as a "constant learner" and a "top advocate" for the social and emotional well-being of the students. She added that Mr. Hulse frequently attends conferences and teaches his fellow board members all that he learns. "You represent us in a way that makes us proud," remarked board member Terry Darling.
"Every day I think about how we can do better for our staff and our students," said Mr. Hulse. "You guys (the board) push me more and more each day, so I appreciate each and every one of you," he added, while also thanking his wife and family for their support.
The board also unanimously passed a resolution to retroactively hire the law firm of Jackson Lewis P.C. for an "amount not to exceed $15,000." Jackson Lewis P.C. will conduct a "district investigation" of an incident on September 14, according to Jennifer Osborne, one of the board attorneys from Sciarillo, Cornell, Merlino, McKeever, & Osborne, LLC.
Ms. Osborne said that the district will typically investigate complaints of incidents in house. "However, there can be a myriad of situations where the district is not able to investigate a certain matter that it is required to investigate," she added, noting that in some cases her firm also cannot investigate these matters and the district can hire an outside source to conduct the investigation.
During the public-comment period, Cranford resident Tom Grasso said that a community member had stated on social media that taxpayer money was being spent because of "anti-maskers suing the board," Mr. Grasso quoted from the social-media post. Mr. Grasso said he "conducted a search" of the New Jersey Superior Court docket and did not find any lawsuits involving the Cranford Public Schools regarding "masks or mask policies."
"In response to Mr. Grasso's claims," said Ms. Osborne, "the district has received a notice of claim, which it received on September 21 of 2021." Ms. Osborne said the two incidents are "two separate things." Ms. Osborne told The Westfield Leader and Union County HAWK she was unable to comment any further on either of the incidents.
In other board news, the district will receive "close to $200,000" from the American Rescue Plan, according to Business Administrator Robert Carfagno. The money must be spent on special education and will be used mostly for out-of-district placement costs, he added.