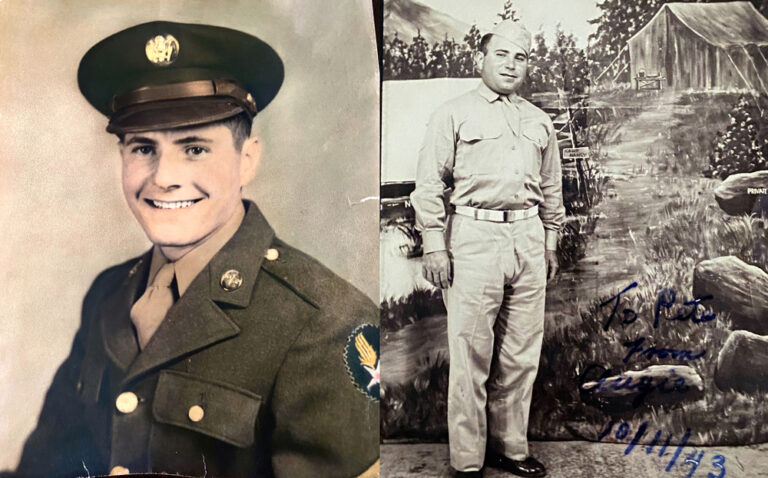 Westfield Family, Neighbor Recall Brothers' Sacrifice in WW II
WESTFIELD — It's a story straight out of a Hollywood World War II epic. A young man enlists in the Army to prevent his brother from being drafted into the war.
That is what Frank De Cillis did in the early 1940s, in the hopes that joining the military would allow his brother, Tony, to escape the war and remain with their family on Downer Street in Westfield.
The De Cillis family was sizable, with four boys and four girls. Frank and Tony's two brothers, Peter and Andrew, were already out of the house serving their country overseas.
The family hoped that at least one son could stay home and look after their sisters and parents as America became embroiled in a global war against the Axis powers of Germany, Italy and Japan.
Frank would find himself in the Army Air Corps — what would become the Air Force. He died on September 18, 1944, when his plane was shot down over German-occupied Poland. He was part of a mission delivering humanitarian supplies to Polish villagers resisting the Nazis.
Tony was unable to escape the war. He was drafted into the Army, where he served as an infantryman and died in Italy in 1944, just a few months after his little brother, Frank.
Andrew and Peter De Cillis would survive the war.
All were young men in their prime, members of what has been called "The Greatest Generation" by historians and authors writing about America's decisive role defeating fascism in the Second World War.
Today, the sacrifice of both brothers is kept alive through their sister, Frances Alose, who still lives in the same house on Downer Street, and her daughter, Marleen Kalajian, niece to Frank and Tony.
Marleen resides with her husband in Cranford, close to her mother Frances, now in her 90s, whom she frequently visits. "My mother has been in that house since she was 2 (or) 3 years old," remarked Marleen, who also grew up in the Downer Street house.
After going through old pictures of "Uncle Frank and Tony" with her mother over the summer, Marleen spoke to The Westfield Leader and The Scotch Plains-Fanwood Times about her family's experience during the Second World War and the deaths of her two uncles.
"It was really sobering to know what happened to your relatives," said Marleen.
She still recalls living in the house and visits by veterans and the military who would honor the sacrifice of her uncles by bringing flowers to her grandmother, Clara De Cillis.
"My grandmother lived with us; they would bring carnations every Memorial Day," said Marleen. "I can't imagine my grandmother losing two children within a couple months of each other."
Frank Bavosa, a neighborhood kid from Downer Street, shared with The Leader his remembrance of the news of the De Cillis brothers dying within months of each other. The double loss left the neighborhood feeling "pain" and "sadness," said Mr. Bavosa.
"Two boys in one family," he recalled.
Mr. Bavosa was too young to be drafted into the war. Nevertheless, he had two older brothers serve in non-combat capacities. Like the De Cillis family, the Bavosas were a large, close-knit Italian family with parents who immigrated from Italy. The Bavosas had five boys and three girls.
"Everyone knew everyone on the block," recalled Mr. Bavosa of Downer Street during the early 1940s. He fondly remembered families leaving their doors open for neighbors to drop in. "It's not like it is today," he said.
The De Cillis story is one that extends beyond Westfield. Cesar Bavosa, Frank's brother, who still lives in Westfield, walked over to the De Cillis home to drop an article from the Chicago Tribune inside the mailbox for Frances Alose to read.
The Tribune article, published on April 4, 1993, tells the story of Frank De Cillis and his aircrew, who were shot down over the skies of Poland. Years later, according to the Tribune, grateful Polish villagers who were present that fateful day erected a monument honoring the B-17 crew, including "gunner" Frank De Cellis.
The Tribune story, written by Linnet Myers, recounts the memories of Stanislaw Baron, a Polish soldier, who secretly buried the airmen after their plane was shot down while carrying vital food and medical supplies to the Poles resisting the Nazis. "To bury them was our duty," Mr. Baron told the Tribune. "They were heroes."
Frank De Cillis' story would not end in Poland. His body, according to his niece, would be moved to Italy, where he joined his brother Tony in a neighboring military cemetery near Anzio, where Tony died in battle.
Tony's and Frank's names, like other town veterans of the Second World War, can be viewed at Westfield's World War II memorial.