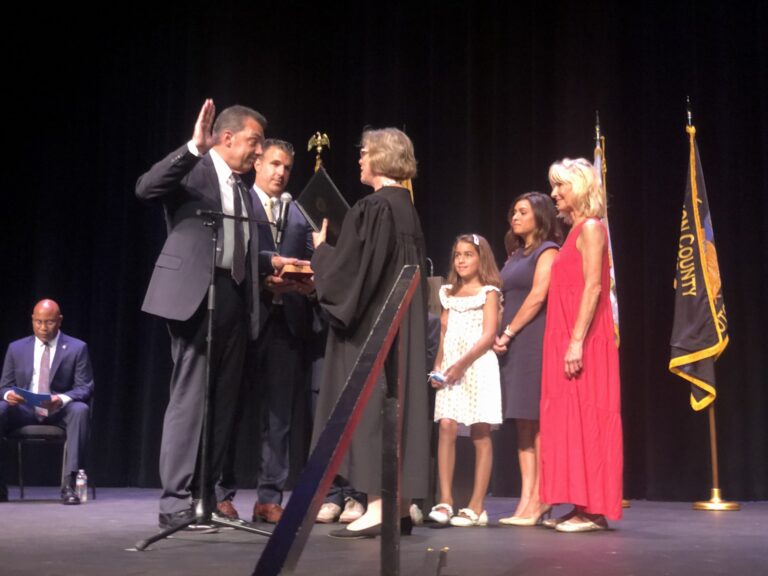 William Daniel Takes Oath as New Union County Prosecutor
COUNTY — After more than eight years, Union County finally has a sitting prosecutor. During a ceremony July 15 held at Kean University in Union Township, government officials, members of the state judiciary and law enforcement officers filled the Wilkins Theatre to witness William Daniel take his oath of office.
Colleagues past and present were joined by friends and family of Mr. Daniel to celebrate his ascension to the top law enforcement position in the county. Official action was taken by the New Jersey Senate's Judiciary Committee on June 16, when his appointment was confirmed by a unanimous committee vote. He was nominated by Governor Phil Murphy.
Mr. Daniel replaces Acting Prosecutor Lyndsay Ruotolo, who became the next director of the Division of Criminal Justice (DCJ). First Assistant Prosecutor James Tansey also was sworn in during the afternoon's ceremonies, along with Chief of Detectives Harvey Barnwell.
Before beginning his tenure as Union County prosecutor, Mr. Daniel served as a New Jersey Superior Court judge from 2005 until this year. Prior to becoming a Superior Court justice, Mr. Daniel served his hometown of Linden as municipal judge, and before that, as municipal prosecutor and assistant municipal prosecutor.
Notable speakers, guests and honored attendees included many colleagues from Mr. Daniel's long, illustrious career. Having the honor of swearing in Prosecutor Daniel was Judge Karen Cassidy, Union County Assignment Judge, Superior Court of New Jersey. Democratic Senator and Chairman of the Senate Judiciary Committee Nicholas P. Scutari — a critical player in seeing Prosecutor Daniel's nomination through — was a keynote speaker during the ceremony. Senator Scutari is a fellow Linden resident and close friend of Prosecutor Daniel.
"Anyone who knows him, knows that Prosecutor Daniel, Judge Daniel, Bill Daniel, is a special person who has devoted his life to public service. But he has also devoted his life to helping others," said Senator Scutari during the ceremony. "He has the judgment to lead this office further into the 21st century.
"Don't mistake his kindness for weakness," remarked Senator Scutari. "He's not afraid to make tough decisions. But at his heart and soul, he's a decent person — one of the most decent people you will ever meet. I think that's the right person to lead this important agency," the senator explained.
An emotional and grateful Prosecutor Daniel took time during his address to thank the many colleagues, friends and family members instrumental to his ascension to the prosecutor's office. He also offered reflections on his new role, especially in the wake of the pandemic and the impact it has had on local governance and the functioning of the criminal justice system.
"We're moving things the best we can; virtually, and now we're coming back to live proceedings," noted Mr. Daniel. "But things will open up, and we'll have to be ready to move. I'm coming into this job ready to move."
During his remarks, Prosecutor Daniel also said he looks forward to working with the judiciary and the defense bar, "to mete the ends of justice, for all involved, including victims of crime, defendants awaiting trial, and the public at-large."
Contemplating the "trying times" facing New Jersey and the country, Prosecutor Daniel offered further reflection and comments to an audience that included prosecutors from other counties, state senators and the Union County commissioners he will be working with in his position.
"We will rise to the occasion; I believe in the goodness of humanity," remarked Mr. Daniel. "I believe we will address the needs of the public."
Invoking Dr. Martin Luther King, Jr., who he credited as a major source of inspiration, Mr. Daniel said he believes that, "we're going to overcome these obstacles and we're going to make this world a better place."
As Union County prosecutor, Mr. Daniel now oversees hundreds of assistant prosecutors, investigators, forensic scientists, forensic nurses, police training experts, victim-witness advocates and civilian team members, according to the county website.
Prosecutor Daniel, furthermore, shared personal principles with the audience during his oath of office ceremony — ideals that have grounded him throughout his personal and professional life.