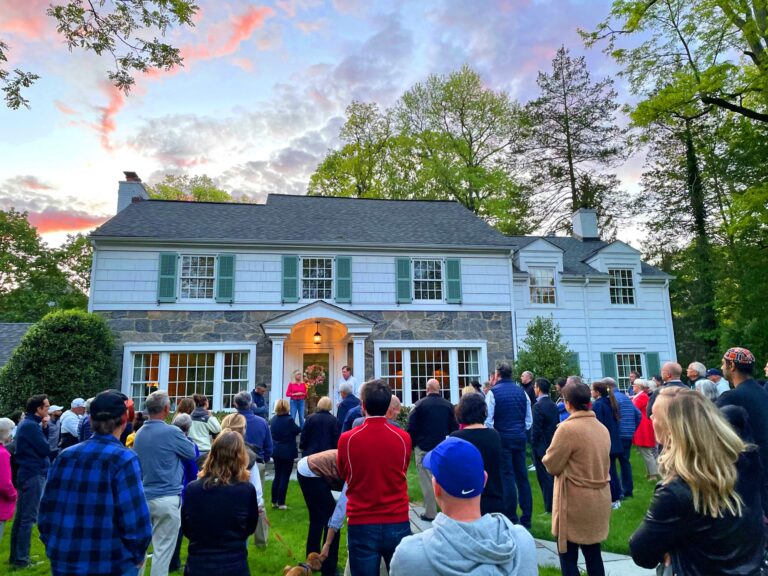 Westfield Residents, Police, Officials Seek to Deter Car Burglaries, Thefts
WESTFIELD — Kathy Fitzpatrick, a resident of Wychwood Road, was hosting her adult children and grandchildren on the evening of May 2 in anticipation of the arrival of the newest member of their family. Her youngest daughter was in the hospital and Ms. Fitzpatrick and her family were expecting a call notifying them of her daughter's impending labor when a car alarm rang out. An unknown person, or individuals, had tried to break into one of the cars parked in driveway.
Fortunately for Ms. Fitzpatrick and her family, the cars were locked. And according to Ms. Fitzpatrick, she was aware of the uptick in car burglaries and thefts throughout Westfield, and warned her visiting children to secure their cars.
After hearing the alarm sound from a car in her driveway, Ms. Fitzpatrick and her adult sons ran to the front of the house and scared off at least one individual who Ms. Fitzpatrick identified as a male, based on her recollection of events.
Not all her neighbors were as fortunate; on the same evening, multiple car burglaries occurred on Wychwood Road and nearby Topping Hill Road.
Ms. Fitzpatrick's neighbor on Wychwood Road had multiple credit cards and $50 stolen from an unlocked vehicle. In the incident occurring on Topping Hill Road, no items were reported stolen. A neighbor on Topping Hill Road notified police that someone had entered the vehicle, according to the Westfield Police Department.
After the incident, Ms. Fitzpatrick said the police came to her aid almost immediately — noting the responding officer informed her that many of the suspects involved in these burglaries often come armed.
Ms. Fitzpatrick's close call was enough for her to mobilize her neighbors for a community meeting held at her residence on May 12. Approximately 150 people showed up, including Police Chief Christopher Battiloro, Councilman Michael Dardia, New Jersey Assemblyman Jon Bramnick (R-21, Westfield) and State Senator Thomas Kean, Jr. (R-21, Westfield).
"It happened to me, which is frankly why I called the meeting," said Ms. Fitzpatrick. "They're bold, brazen and unafraid of police."
Ms. Fitzpatrick was not alone in her concern, nor in her initiative in mobilizing fellow Westfielders and neighbors.
After a recent attempted burglary of a home on Hazel Avenue, Erin and Matthew Eckard hosted their own community meeting on May 17 at their home on Dorian Road.
This meeting brought together neighbors and town officials, among them Mayor Shelley Brindle, Police Chief Battiloro and town council members Dawn Mackey and Scott Katz, both representing Westfield's Fourth Ward.
The meeting was meant to assuage concerns, answer questions and provide information not just in connection to the incident that happened on Hazel Avenue, but the string of auto thefts and burglaries occurring in town over the last month or so.
Speaking to residents in attendance, Mayor Brindle sought to reassure residents that Westfield is committing all the resources necessary to support the police department during this time. Even after a pandemic that saw the town-wide budget cut by 2 percent, the police department was the only department not to receive any cuts, noted the mayor.
Mayor Brindle emphasized there are more patrol officers on the force now than at any point in the history of the town.
"Anything they [the police department] request or need, we are providing them," said Mayor Brindle. "We as a mayor and council are providing them all the resources that they need."
During her comments, Mayor Brindle said Westfield is safer now than it was 10 years ago, referencing a reduction in violent crimes such as assaults — as well as zero murders — within that range of time.
Chief Battiloro provided additional context to the recent string of car thefts and burglaries occurring in town.
In 2021, the chief noted, there have been eight car thefts in town, the incidents resulting from cars being left unlocked or key fobs being left inside a vehicle.
Out of the most recent car thefts, in the second quarter of 2021, two of the five vehicles were determined by police to have been unlocked with the key fobs left inside at the time of the thefts, according to the chief.
The other three thefts, which did not result from cars being unlocked, occurred between April 25 and May 7. They took place on Hillside Avenue on April 27, Bennett Place on April 29 and Codding Road on May 1, Chief Battiloro told The Westfield Leader.
The Hillside Avenue incident involved someone having broken a window pane on a kitchen door in order to reach inside and remove a key fob. On Bennett Place, someone broke into a mud room and stole a key fob out of a purse. In the Codding Road case, someone entered an unlocked door and stole the vehicle key from a nearby basket.
"Motor vehicle theft is an epidemic in New Jersey. This is happening all over the state of New Jersey," said Chief Battiloro. "The criminals are taking advantage of you; they're taking advantage of your complacency."
Chief Battiloro described residents leaving cars unlocked as the "most predictive" factor in the overwhelming majority of car theft cases in the town, calling the trend "very concerning."
Moreover, unlocked cars have contributed to vehicle thefts in the town's recent history — with a total of 25 vehicle thefts occurring in 2020, 20 in 2019, 26 in 2018 and 28 in 2017.
"They feel very comfortable coming here," noted Chief Battiloro of those responsible for the vehicle burglaries and thefts. "Little problems become big problems if we don't take care of it. They're becoming more and more bold."
Right now, according to the chief, Westfield is on track to have between 25 to 30 car thefts in 2021, a rate surpassing the high of 28 in 2017.
"There's a problem here and it's attracting criminals, and we need to change this; we need to change this behavior," said Chief Battiloro, referring to residents not locking and securing their vehicles along with their doors and residences.
The chief said the department has reallocated manpower to overnight hours, recently utilizing forced overtime during this time when Westfield seems extremely vulnerable to car thefts.
Moreover, when addressing residents on May 17, the chief continually advocated the virtues of community policing. Chief Battiloro encouraged residents to report suspicious behavior, or suspicious persons, within their neighborhoods — and not to hesitate in reaching out to the police immediately.
He also urged residents not to confront any criminals directly, but to immediately contact police, as the suspects can pose danger.