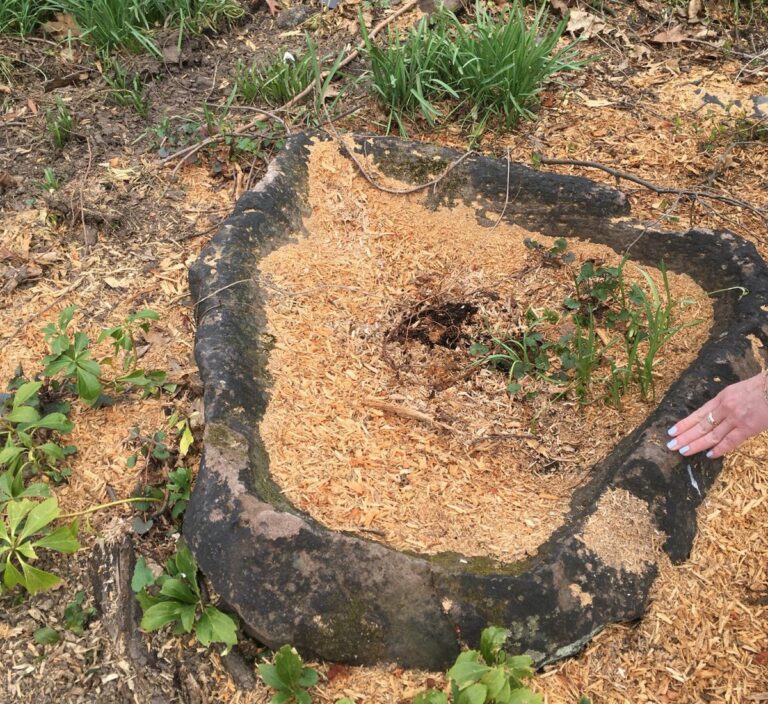 Mindowaskin Park Takes On Spring Cleaning
WESTFIELD — Mindowaskin Park is currently undergoing a spring metamorphosis. Passersby may notice the cleared Daffodil Bank, also known as Daffodil Hill, where the town has removed overgrowth and a few trees. While clearing the area, the Garden Club of Westfield spotted what is believed to be a Native American mortar. The mortar was previously donated to the park, but its precise location had been lost for some time, according to Margaret Allen of the Garden Club of Westfield.
Town Administrator Jim Gildea said the Friends of Mindowaskin Park has requested the town's assistance on the project for years. Mr. Gildea said that the town was inspired to take on the project after Clara Christian, the Westfield Girl Scout who is creating a sensory garden in Mindowaskin, started her project. The town is getting input from the Friends of Mindowaskin, Ms. Christian, the Department of Public Works and the garden club for the design and maintenance of the new and improved Daffodil Bank.
"We're only in the beginning phases of restoring the natural beauty to the park," Mr. Gildea said in the April 6 town council conference meeting. He said the design and implementation of plans will continue throughout the spring and summer.
Last Friday, the Garden Club of Westfield discovered what members believe to be a Lenape grinding mortar buried in the hill. Garden club member Margaret Allen said that the artifact was intentionally placed there long ago but that "no one had been able to find it" in the overgrowth. She said the garden club met with Mr. Gildea on Thursday to provide input on the area.
Ms. Christian's sensory garden is named Veronica's Garden after Ms. Christian's cousin, who has Down Syndrome. The Girl Scout Gold Award project was approved approximately a year ago and will be 2,500 square feet in size. The Gold Award is the highest achievement a Girl Scout can attain and is meant to make a positive difference in the community. Ms. Christian said she plans to add more plantings near the back of the garden as a second phase because she has approximately $1,500 left over to spend. She said she would like to install some donated art pavers to add to the project. The council gave its approval for the additional aspects.
"You've inspired us, with the whole Daffodil Bank — you've been an inspiration," Mayor Shelley Brindle told Clara at the April 6 conference meeting. "Your garden is worthy of the rest of it looking as great."
Residents can get more details about the garden's layout and about Ms. Christian at veronicasgarden.org.
Residents may have noticed the foundation lit up blue at the park. Councilman Michael Dardia thanked the Department of Public Works at the April conference meeting for acknowledging and celebrating National Autism Awareness Month. Mr. Gildea said the lighting device will be used for other events as well.