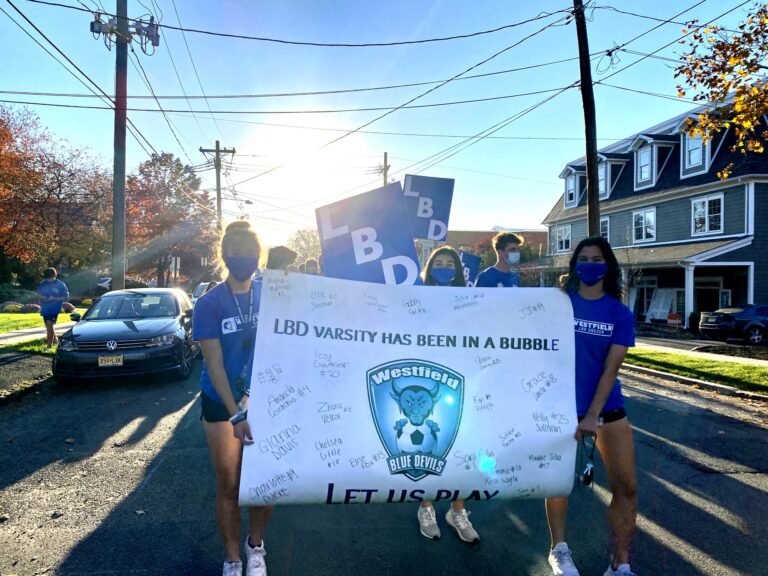 Westfield Students and Parents Frustrated Over District Decisions
WESTFIELD — Westfield High School (WHS) classes will be held via remote instruction until after Thanksgiving, Superintendent Margaret Dolan, Ed.D., announced in a statement on Sunday. All extracurricular activities, including athletics, were also suspended.
Hybrid instruction was originally planned to resume on Monday, November 9. However, the number of Covid-19 positive individuals grew from six to 23, necessitating the longer closure, according to Dr. Dolan's November 8 letter to the community. "Whether WHS is able to reopen on Monday, November 30 will depend on the school community working together to bring the number of Covid cases and exposures down," the letter read. Dr. Dolan also urged students to remain socially distant and avoid large gatherings.
Student athletes gathered at WHS on Monday afternoon to urge Dr. Dolan to allow athletics to continue despite an all-remote school day. The students wore masks and held signs that said "Let Us Play."
"We've been going even beyond what the school's asking us to do to stay safe, and despite the fact that we've been safe this entire time, we're still getting shut down," Jack Kelesoglu, a senior varsity soccer captain, said.
Fellow senior athletes Julia Johnson-Millstein and Jane Sullivan also noted that their team, the girls varsity soccer team, had already agreed to switch to all-remote learning prior to the district's decision, in order to limit their Covid-19 exposure risk and be able to play.
James Birle, another senior soccer captain claimed that no fall athletes currently have tested positive or have been exposed. "We'd all commit to all getting tested if that's required. We'd commit to playing in front of no fans, whatever they recommend for us," he continued.
"We would love to have the Westfield High administration reconsider their decision to cancel athletics for the continuation of our season, just so we'd have the opportunity to play in our county final and a chance to win the state section," Grace Lanza, a senior varsity soccer captain said.
Dr. Dolan addressed the student's concerns in a letter on Tuesday, stating that the decision to suspend sports and pivot to all-remote learning for WHS was difficult. "I cannot make an exception for a specific team, club, or student group, when all of our students, including student-athletes, are impacted by this rise in Covid cases in Westfield," she wrote. Dr. Dolan acknowledged the athletes' hard work to qualify for county tournaments and wrote that her "heart goes out" to the students who want in-person learning, play sports and are auditioning for a virtual play, but her decision was based on the recommendations of the health department.
Parents of those students wishing to have more in-person learning have also been expressing their frustrations. A petition on change.org asking the district to implement daily in-person instruction garnered over 520 signatures in two weeks.
Another Westfield parent, Cate Oakes, created and sent out a Google form asking for parent feedback about the current hybrid situation. Ms. Oakes' form had received 220 responses as of Tuesday evening. One of the questions asked respondents to scale their satisfaction of the current hybrid model from 1 to 5. According to her results, which Ms. Oakes acknowledged is a small sample, 68 percent of respondents were dissatisfied with the current hybrid model and 8 percent were satisfied. The remaining 24 percent responded with an answer of 3.
Ms. Oakes said a majority of the responses appreciated the efforts of the teachers and acknowledged the difficulty the teachers face with the new methods of instruction.