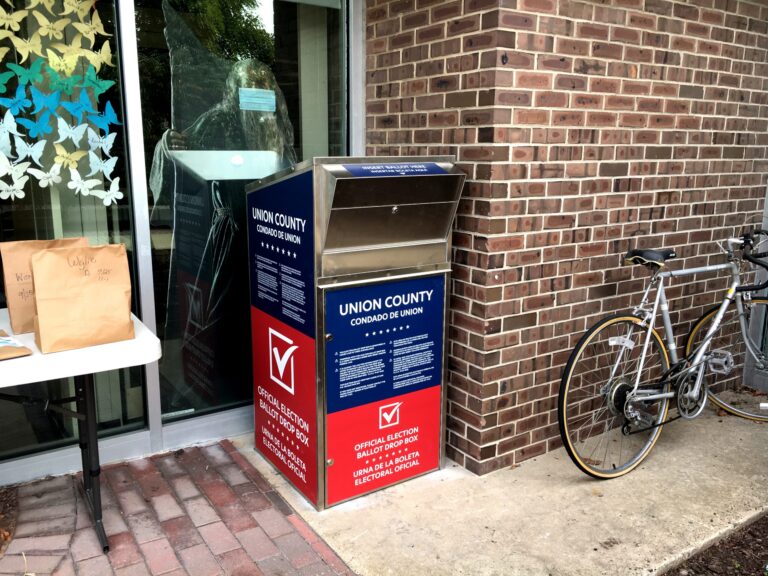 Local Seats Up For Grabs; Vote Count to Take Days
AREA – It is very unlikely that voters will know clearly who all the winners are on election night, given the state's vote-by-mail procedures and the related delays in tallying the many thousands of ballots that are being cast not only for President, Congress, county freeholders, clerk and sheriff, but also for council seats in Cranford and Garwood.
"Nobody should expect any meaningful results on election night," according to Nicole DiRado, administrator of the Union County Board of Elections. She told The Leader/Times she is anticipating more than 200,000 ballots to be cast in the election, mostly via mail and the drop-boxes located in each town in the county. County election officials began processing the ballots last Saturday, a task Ms. DiRado called "time-consuming and labor-intensive." Tomorrow, the ballots will start to be run through the vote-counting machines, but the actual reports with actual vote tallies will not be sent to the county clerk's office until after the polls officially close at 8 p.m. on Tuesday, November 3. Reports with vote counts will be sent to the clerk's office each day afterward and those numbers will be posted regularly on the board of elections' website in the days after the election.
Ms. DiRado cautioned that the initial vote counts will represent just a small percentage of the total number of votes expected to be cast. She expects "tens of thousands" of ballots to be submitted on election day, which her office will have to process along with provisional ballots. The county can accept mail-in ballots until Tuesday, November 10, as long as they are postmarked by November 3. On election night, municipal clerks in each town will receive vote counts only from local voting machines, which will account for a very small percentage of the overall vote since in-person voting is severely restricted.
In Scotch Plains, Democrats will be looking to widen their 3-to-2 majority on the council. Dating back more than a century, Democrats have never had unanimous control of the governing body. In 2015 and 2016, they held four of the five seats, and for the first 11 months of 1999, they held a 3-to-2 majority.
On Tuesday, Republican Mayor Alexander Smith will be seeking a second four-year term in the township's sixth mayoral election since 2000 when direct election of the mayor was instituted. Prior to that, the five council members appointed a mayor from within their ranks to serve one-year terms. Mr. Smith will square off against Deputy Mayor Josh Losardo, a Democrat who was elected to the governing body two years ago. Republican Councilman Ted Spera also is seeking a new four-year term against Democratic challenger Ellen Zimmerman.
This evening, October 29, the two mayoral candidates and the two council candidates are taking part in a forum sponsored by The Leader/Times. Among the topics to be discussed will be downtown redevelopment; the coronavirus and its effects on township and small-business operations; shared-services opportunities; property taxes and township finances, especially the effects of the pandemic shutdowns and next year's property revaluation; racial issues at local schools; and the opportunities for increased recreation activities and open space.
Three Scotch Plains residents are running for the two seats on the Scotch Plains-Fanwood Board of Education: Evan Murray, David Levine and Karen Mitchell. Fanwood incumbent Amy Boroff faces challenger Maggie Savoca for the board seat.
Two seats are up for election on the Cranford Township Committee. Democrats Brian Andrews and Jason Gareis are facing off against Republicans Chrissa Stulpin and Regina Gina Black. Whomever is elected will occupy the seats being vacated by Mayor Patrick Giblin and Commissioner Jean Maisonneuve, who did not seek re-election.
In Garwood, Republicans Jesse Wilson and Joseph Nicastro are facing incumbent Democratic Councilman Russell Graham and Vincent Kearney, who ran for a borough council seat in the 2018 Primary. Republican Councilman Richard McCormack lost his bid for the nomination in the primary, and will vacate the seat in the new year.
For the Westfield Board of Education, 10 candidates are running for three seats. Sonal Patel is running under the platform "Teacher + Progress + Compassion"; Paul Monusky, Leila Morrelli and Sahar Aziz are running as "Preparing Tomorrow's Leaders"; Wendy Rogers, Deborah Feldman-Kahn and David Sexton are running as "Bright Futures"; Kent Diamond, Priti Dave and Eldanydia Pavon are running with no declared platform.
In Cranford, four candidates are running for three open seats on the board of education, including Kurt Petschow, Kristen Mallon, Lisa A. Carbone and Francis N. Riccio III.