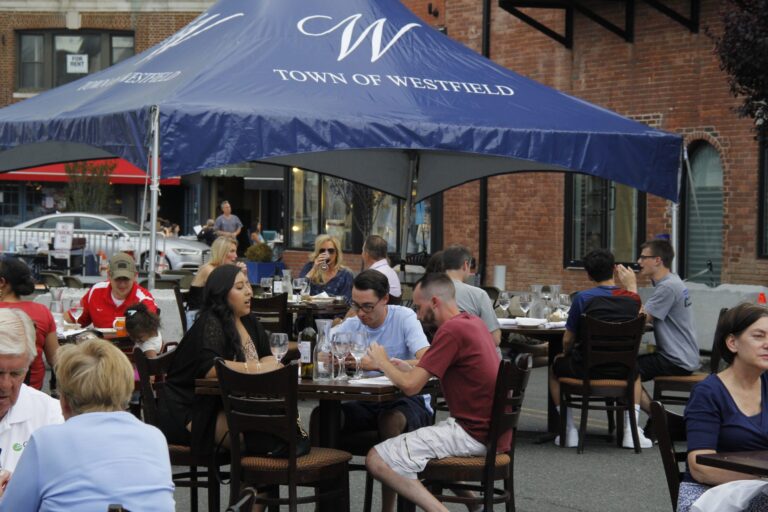 DWC Reviews Quimby Plaza; Plans For Holidays and 2021
WESTFIELD — The Downtown Westfield Corporation (DWC) held its monthly meeting October 21. Board members discussed the future of the Quimby Street pedestrian plaza, the upcoming holiday season, a grant for federal CARES Act money and businesses moving into the downtown area.
The bulk of the meeting was devoted to discussion of Quimby Street's current setup as half-pedestrian crossing. Bob Zuckerman, executive director of the DWC, said the street will remain closed to motor vehicles on the south side through Thanksgiving. Mr. Zuckerman said he wanted to hear board members' thoughts on the closure and what the plans should be for next spring.
He said he thinks the public "really, really likes" the current arrangement. "So with Covid being what it is, meaning that, unfortunately for the whole world, it's not going away any time super soon, I think it's time for us to actually start planning for the spring again because I don't anticipate it being much different come, say, April 1."
Mr. Zuckerman said that planning now would help the board create space in the 2021 budget to set up the pedestrian crossing more properly. He said that the closure has been popular with residents and that programming the space with events has been very successful and created a high resident-turnout on both weekends and weekdays.
Board member Lewis Kimble said he has been approached by residents who wish the town had closed the entire street and installed a pedestrian plaza for outdoor eating and foot traffic. Mayor Shelley Brindle said that if logistics were not a factor, she would love to shut down the whole street. However, she continued, it just will not be possible.
Board member Gary Goodman asked Mr. Zuckerman if the Quimby Street property owners have had the opportunity to give the board feedback, and Mr. Zuckerman said he had not spoken with all of them. Mr. Zuckerman said that he would talk to them individually before the next meeting and that the board will vote on next year's Quimby Street plan at its next meeting.
Mr. Zuckerman also told the board he had submitted an application for a grant from Main Street New Jersey requesting $57,000. The program is run through the state and is distributing federal CARES Act money to main street organizations.
Most of the grant money requested is for holiday-related expenses, Mr. Zuckerman said. He said he asked for $10,000 to run a downtown ambassador program over the holidays. The ambassadors would hand out masks, give directions and answer questions from shoppers. Another $5,000 would go to designing and printing holiday guides and maps.
Mr. Zuckerman said he asked for $10,000 to set up a holiday visitors center in a vacant store. He said the idea would be to let shoppers warm up inside and to sell Westfield 300 merchandise and gift wrapping.
Another project expense he requested funding for would give a local delivery service the chance to compete with large corporations like Amazon this holiday shopping season. The town would work with Delivery Now and a requested $7,500 to offer free delivery for anyone in a certain square radius purchasing from a local merchant. "I think this would be a huge win for us," Mr. Zuckerman said.
Mr. Zuckerman said he would hear back from Main Street New Jersey this week about whether or not his proposals were accepted.
The board additionally went over the new businesses in the downtown area. Custom Ink, a print shop largely based online, "should be open before the holidays," Mr. Zuckerman said. There also is a new tenant on Elm Street, G Lab Aesthetics, which is a medical spa that offers treatments like Botox, fillers, facials and microneedling.
The multicolored building on Elm Street will see the opening of a new real estate office, and Beyondtrends, a women's boutique, also is open on Elm Street.
Mayor Brindle said the next step in the town's redevelopment process is to draft a plan that lays down the general vision and zoning that reinforces the recommendations of the Master Plan. She said the redevelopment plan will be introduced to the town council soon, then it goes to the planning board and then, after a council vote, be opened to the public.
"It's more important than ever, in light of Covid, that we keep moving this progress because it will be the cornerstone of our economic recovery," she said. "Next year will be an exciting and transformative year for our town. And it will be very public-input driven."